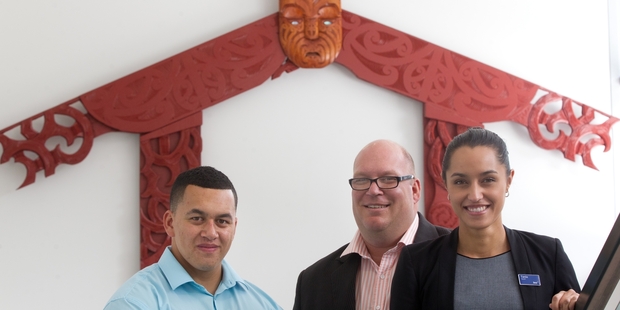 BNZ's newest Rotorua recruits hope they will inspire other young Maori to consider a career in banking.
Tania Tapsell, 21, Aden Hare, 19, and Jerusalem Rikihana, 22, are the local recipients of the bank's Te Pihinga Maori cadetship programme, delivered in partnership with Te Puni Kokiri.
A total of 13 six-month cadetships have been awarded across the country. It is hoped they will build Maori capability in communities and encourage more Maori leaders into the banking and finance sector.
Ms Tapsell, who became Rotorua's youngest district councillor last October, started at the BNZ Partners Centre three weeks ago under the mentorship of senior partner Chad Hoggard.
She said she hadn't previously considered a career in banking because of the perception she had of the industry.
"Then I got to know about the [cadetship] programme and became interested in it," she said. "A lot of people have the perception banking is numbers and hard ...
the typical male banker really."
She said Maori were under-represented in the field and she wanted to be able to share the range of opportunities available.
One of the projects she is working on is a financial literacy programme, while she is also keen to focus on Maori economic development.
Mr Hare, who is currently working in the retail branch, previously worked for Armourguard and became known to bank staff when he'd pick up and deliver the cash.
"I was always asking questions about how to get into banking. Then the cadetship programme popped up," he said.
He's enjoying the bank's supportive team atmosphere and said he can see himself having a long-term career with the bank.
Ms Rikihana is completing her initial training in South Auckland but will move to Rotorua at Easter. All three cadets are Rotorua born and bred, of Te Arawa descent.
Mr Hoggard said the bank hoped some of the 13 cadets nationwide would continue on to careers in banking.
He said the three cadets shared the bank's values and provided "different insights" and "different perspectives" on the Maori and youth markets.
BNZ's senior manager Maori business, Hinemaua Rikirangi, said the bank struggled to find Maori candidates.
"There is so much opportunity for more Maori across the country to do well in banking and finance; it's just a case of creating the pathways for Maori to experience working within the sector."
Te Puni Kokiri chief executive Michelle Hippolite said Maori and iwi organisations were becoming a growing economic force and it made good business sense for companies to ensure the particular skills Maori had were available within their organisations.