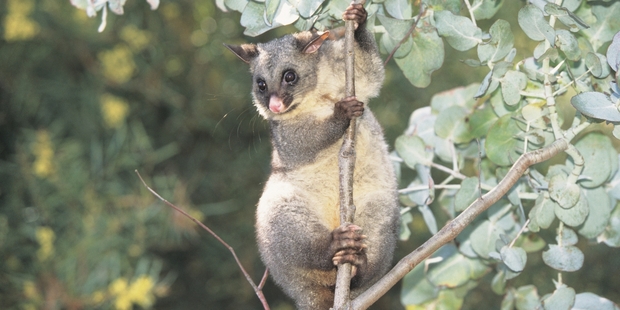 Trouble is brewing for New Zealand native birds and fauna as we prepare for one of our
worst possum infestations in decades. Pest control has faltered as conservation workers
do their bit to fight fires across the ditch.But fledgling research into pest-seeking drones and breeding "mutant''' possums offers hope to conservation staff fighting to save the
dawn chorus.
Cassandra Mason investigates Beech forests flowering heavily across the country are expected to trigger a pest explosion in the coming year, putting some of our rare bird populations at serious risk.
The trees generally seed every four or five years, but conditions over the last two summers have fostered a "mast year" - where the widespread flowering generates large quantities of seed on the forest floor.
The abundance is likely to fuel a plague of mice, rats and stoats which will turn to native birds for food once the seeds run dry in winter.
Native bird populations have suffered some heavy blows in the past when DoC failed to cope with the fallout of mast year pests.
And this mast season is especially hazardous considering DoC has fallen short of its target for 1080 poison drops over the past year, making conservation land vulnerable to hungry predators.
DoC director-general Lou Sanson told Parliament late last month that a plan to carry out pest control over 2832 ha in Northland was cancelled because up to 40 of the department's forest firefighters were sent to battle Tasmanian bushfires in January.
Another operation in Haast was postponed because of poor weather.
This year, Commissioner for the Environment Jan Wright has renewed her calls to beef up 1080 usage to protect native species on conservation land - a method vehemently rejected by animal activists and opposition groups around the country.
Plague of possumsFirst released here in 1837 to establish a fur trade, the Australian Brushtail Possum was initially protected and allowed to flourish.
But booming population growth throughout the century came at a devastating cost for our native forests and native bird species, which have had entire populations destroyed.
Possums, along with fellow predators rats and stoats, are now estimated to kill 25 million birds in New Zealand each year.
Alongside a variety of traps, DoC's weapon of choice is 1080 poison, which is usually dropped from helicopters onto conservation land.
1080 is a manufactured version of flouroacetate, a naturally occurring chemical produced by many plants that grow on high fluoride soils.
The baits are dyed green and treated with a cinnamon lure that attracts possums but repels birds.
New Zealand has come under fire for its 1080 use, which accounts for 80 per cent of the world's production.
The pitfalls include poisoning the wrong animals, a slow and painful death and the suspected contamination of waterways.
Opposition groups point out we are one of the only countries to use the poison and that it is banned by numerous overseas nations. Opponents have run a series of heated campaigns and protests over the years, demanding an end to 1080 use in New Zealand.
But the Government justifies our position, arguing our only native land mammals - two varieties of bats - are not susceptible to 1080 poisoning.
The most recent 1080 programme began in the Kahurangi National Park in October and will continue until June 30.
However, ground-breaking research initiatives could put an end to the controversy once and for all.
Revolutionary pest controlScientists at Landcare Research and Otago University are trying to breed "Trojan female" pests that will give birth to infertile males.
The method has already been used overseas to curb insect populations, but now local researchers are seeing if it can be applied to vertebrates.
If successful, it will offer a heightened level of control unprecedented in pest management.
Lead researcher Dan Tompkins says some male possums, like humans, are "duds" and can hopefully be selectively bred to increase infertility.
"The silver bullet in New Zealand would be something that has population effects but it's not toxins and it's not GMO (genetically modified organisms)."
The word "mutant" has been bandied around to describe the result, but the possums will be a variation on "what's already out there", he says.
"Now we're just trying to make it work in the lab, working with fruit flies and mice."
Meanwhile, Landcare Research is also working with Tuberculosis (TB) Free NZ on designing a drone that uses infra-red technology to target possum populations.
While the technology is being developed predominantly for TB eradication, it would be a useful pest control tool and one that could assist DoC considerably. TBFree NZ's Simon Andrew says the research is looking at whether thermal camera equipment mounted on drones can be used to spot possums in the bush.
"A key part of that would be image recognition software which is still to be developed."
Eradication methods could then be targeted at possum populations using GPS co-ordinates.
Similar technology has been used in Israel to detect deer, but it's never been applied like this, Mr Andrew says.
And though expensive to implement, the technology is likely to become cheaper over time.
"The way I look at it is to draw parallels with new Playstations and XBox - if you went out now and bought it it'd be very expensive ... but in a couple of years' time they'll be half that price."
Conservation spin-off for DoCDepartment of Conservation spokesman Herb Christophers says the research initiatives could help expand a "very small toolbox" of pest control methods currently at DoC's disposal.
"We have toxins, we have physical traps and that's the way it's been for many years."
While both research projects have been designed with the agricultural sector in mind, the spin-off is the potential use of the tools in conservation, Mr Christophers says.
However, the testing phase could take years. "It's not going to happen tomorrow."
Two significant mast seasons in the last decade saw some bird species wiped out entirely from some areas.
DoC wasn't able to cope with the pest explosions and had been trying to rebuild those population ever since.
"We lost quite a lot of populations of species in the early 2000s, knocking them down to levels where they were badly affected."
One of these was the Mohua, or Yellowhead, population from Mt Stokes in Marlborough, Mr Christophers says.
"[DoC] hadn't expected that the stoat numbers would get so high and we lost the Mohua completely."
The Mohua, which lives only in South Island and Stewart Island forests, was one of the country's most abundant bird species in the 1800s.
But the introduction of new predators like rats, stoats and possums devastated the population and by 1900 it was disappearing from many areas.
Today, there are only about 30 known populations.
This time around, DoC will be "far better prepared", Mr Christophers says.
Most 'humane' optionAnimal welfare campaigners SAFE believe fertility control could be the answer to the possum problem.
"There's always going to be problems with animal control," SAFE campaigns director Hans Kriek says. "If a method could be devised to create infertile possums, it seems a logical thing to pursue."
Poisons like 1080 are extremely painful and can take several days to kill an animal.
"Research has been done on 1080 and it's not a humane poison. I've seen dogs die from 1080 poisoning .. and it's one of the worst things you can ever witness. It's complete agony, screaming animals having convulsions, then they die.
"The animals can't help themselves, they were just brought here, so we believe that even though they are seen as pests, they need to be treated with respect."
More research needs to go into alternative ways to cull the pest population, he says.