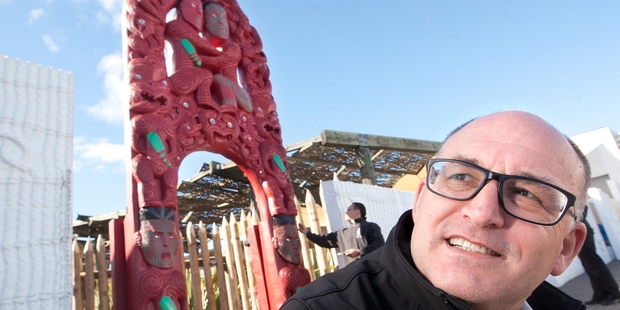 A historic carving has been replicated and unveiled as part of Te Puia's 50th anniversary celebrations.
The original waharoa (gateway) was carved in 1908 for the New Zealand International Exhibition by Te Arawa carver Tene Waitere, but has been kept in storage due to geothermal damage.
The waharoa was transported around New Zealand after the exhibition and was regarded as a symbol of cultural tourism.
Yesterday a replica waharoa, which was carved at the New Zealand Maori Arts and Craft Institute, was unveiled in a special ceremony as the geothermal tourist attraction marks its golden jubilee under an act of Parliament in 1963.
Te Puia chief executive Tim Cossar said the waharoa came to symbolise the two aspects that continued to form the mandate of Te Puia and the New Zealand Arts and Craft Institute today - the perpetuation of Maori art and craft skills, and the visitor operation that contributes to that work and the ongoing environmental protection and maintenance of Te Whakarewarewa Valley.
"Unfortunately the years and our unique geothermal environment had started taking its toll on the original and it was stored away for preservation," he said.
"Last month it was gifted back to the Schuster whanau, descendants of Tene Waitere, for their safe keeping. The original waharoa became an icon of the Valley and everything that it represents, and we expect that the replica will come to represent the same over time.
"It is already proving to be a much-sought after photo for manuhiri [visitors]."
Institute director Karl Johnstone said the carving required a special set of skills to be able to recreate the piece.
"Like the original, this waharoa represents our material heritage," he said.
"By virtue of its form and design, it acknowledges the legacy of Tene Waitere and his descendants. At the same time, it is also an important reflection of the skills and aspirations of our current carvers as they create their own history.
"This has been a complex and nostalgic project. The symbolism of the piece will continue to generate meaning over time and it will not be until our future generations look back, that the next chapter of the ongoing story of the waharoa will become clear."
The carving was led by senior carver Albert Te Pou and was carved from a 5m high, 3 tonne piece of bush-felled and laminated Northland kauri.