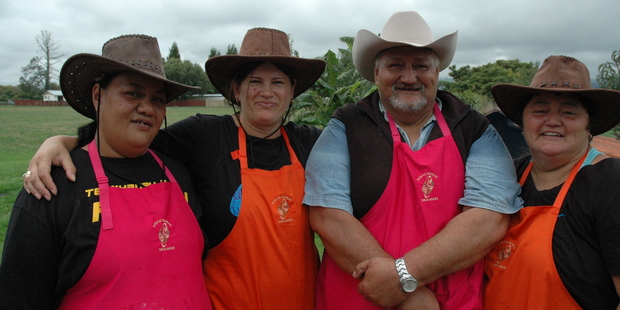 Preparing and cooking up a three-course dinner for 200 hungry punters was a weighty challenge for Marae Kai Masters winners - Te Teko's four person Tu Teao Marae team.
But keeping the win quiet for four months from whanau in the small eastern Bay of Plenty settlement since filming finished in May had been a greater challenge, said team member Philli Moses.
Tu Teao - nicknamed 'Nga kaupoi o Te Teko', or the Texas Cowboys - carried away $40,000 worth of prizes in the competition's grand final cook-off against Tauranga's Huria Marae televised last night on Maori Television. The team's winning menu included seafood entrees, beef and scallop mains, and a meringue and berry fruit dessert.
Tu Teao team members - Philli Moses, Gundy Pryor, Lolo Hale and Gaynor Paul - had to keep silent on who won the cook-off since the programme was pre-recorded, Mrs Moses said.
"It's been a long time to wait."
The packed marae was jubilant last night after many gathered to watch the programme and find out the result - unaware beforehand their team had won.
"We've had so many people come up to us in the street since the final in May to say how great it is we made it onto television and into the semifinals.
"They didn't know that we had actually won it because we were told not to tell anyone - not even our partners and family.
"It's been hard to keep it to ourselves.
"Now that everyone knows it is like it happened yesterday."
In the grand final Tu Teao and Huria had been assigned to cook for 200 invited guests gathered at Te Mahurehure Marae in Point Chevalier, Auckland.
"It was really challenging to cook for all the people when we only had four of us doing the work - usually in the marae we have a lot more helpers," Mrs Moses said. "It was pretty close but I think our humour got us through in the end even when it got a bit stressed."
Mrs Moses said working within a set budget had also been a challenge.
"We never thought of ourselves as master chefs but we worked really hard on presenting the food nicely - I think that might have got us through in the end."
The team look forward to returning to the marae kitchen to prepare and cook meals.
"It hasn't changed us much, although Gundy now prepares more meals at his house than he did before."
For the grand final Tu Teao served avocado and shrimp french stick, coconut snapper on cucumber, kuku (mussels) and horopito dumplings for entree, beef a la Gundy with scallops, mushrooms, potato and kumara mash, and pea and mint mash for the main course, and meringue and mixed berries, cream and custard for dessert.
The team's $40,000 worth of prizes included a $9500 Moffat oven, Mighty Light stackable chairs valued at $16,000, a $4000 jumbo multi kai cooker, 12 months supply of kaimoana (seafood) from Aotearoa Fisheries, $7000 worth of vouchers from Southern Hospitality, and $5000 cash.