About 1000 spectators were treated to an evening of thrills at the Rotovegas Boxing Gym's Corporate Boxing Extravaganza.
Gym owner and head trainer Aaron Warren said it was "an awesome night".
"They were some of the best fights we've had - some of the people who have been to four or five of these nights said this was the best they've seen," Warren said.
The event, held at Rotorua Girls' High School Arena on Saturday night, included seven female bouts and eight male bouts.
"The skill level was tremendous. One thing I noticed about all of these fighters was there was plenty of heart, which we predicted, but it was right from the beginning of round one to the end of round three.
"Most of them fought that hard that they collapsed at the end of the fight, they left nothing in the ring."
Winner of the overall best female fighter award was Kim "Pocket Rocket" Murphy, while the male award went to Kris "Bam Bam" Kingi.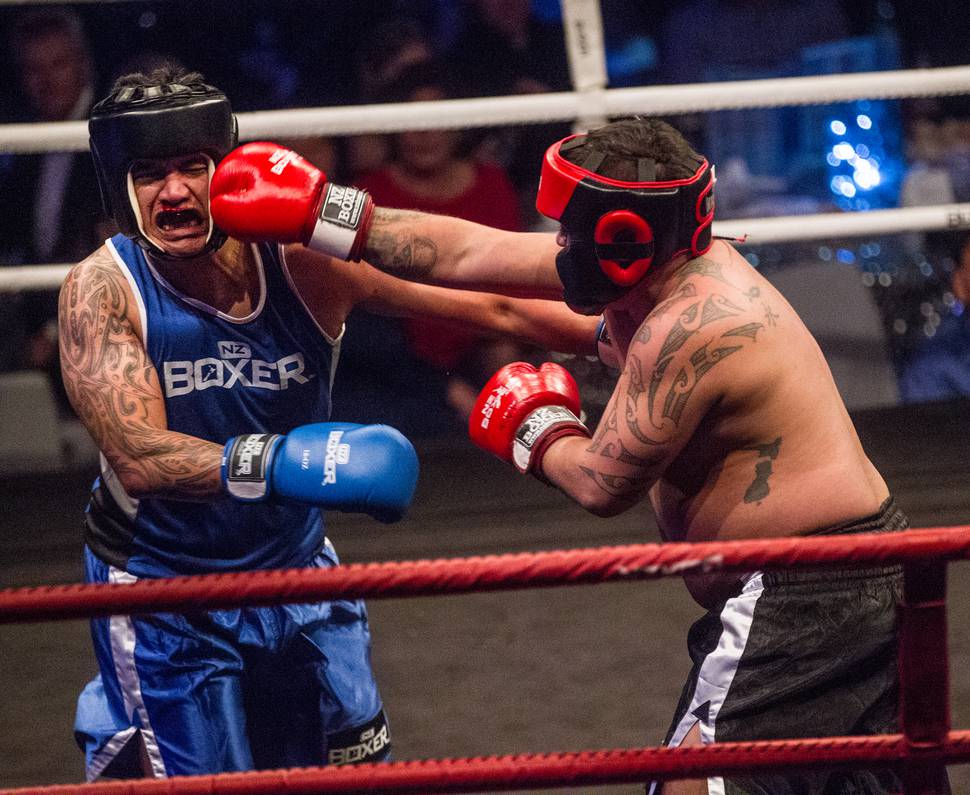 Warren said Murphy showed "plenty of determination and some good straight, solid punches".
"The judges said Kris showed a lot of composure and picked his shots, he looked like a good, tidy boxer."
He said he received nothing but positive feedback from spectators and fighters alike.
"The crowd was well behaved, it was basically a sell-out."
The gym has another corporate boxing night, "Christmas with a Punch", planned for late November as well as some other events.
"We're looking at doing a series with [boxing promoter] Andrew Higgins - it will be a TV series based around corporate boxing and we'll have a big corporate night at the end with titles up for grabs."
The gym also invited staff from the Rotorua District Council to the event on Saturday and were in talks about working together for future events.
Results:
Shaun "The Shogun" Werahiko beat Shakur "Shankcey" Te Moana-White.
Mary Lee "The Warrior Princess" Smith beat Jess "Knockers You Out" Carlsen.
Mia "Mad Dog" McDonald beat Mandi "Miss Behavin" McQuarrie.
Alicia "Knock Out Nurse" Eagle drew with Charlene "Lil Hux" Chase.
Kris "Bam Bam" Kingi beat Bruce "Almighty" Beard.
Kim "The Pocket Rocket" Murphy beat Summer "Vicious Delicious" Coulson.
Rawiri "The Notorious" Te Waaka beat Luke "The Pittyman" Pitman.
James "The Boogeyman" O'Neill beat Manaia "Wayback" Rikihana.
Anahera "Torturist" Tango beat Ruta "Ruthless" Houkamau-Ginns.
Johnboy "The Energizer" Tahuri drew with Raina "The Hitman" Gerrard.
Ashley "Assassin" Duncan beat Holly "Hurricane" Schwass.
"Not Mike" Tysone Stephens beat Craig "The Bic Mac" McFadyen.
Aaron "Gravedigger" Golding beat Trinity "Pretty Ricky" Ropiha.
Nerissa "Knock Out" Jones beat Kim "KO" Maguire.
Scott "Money" Mayhew beat Joe "The Menace" Curtis.