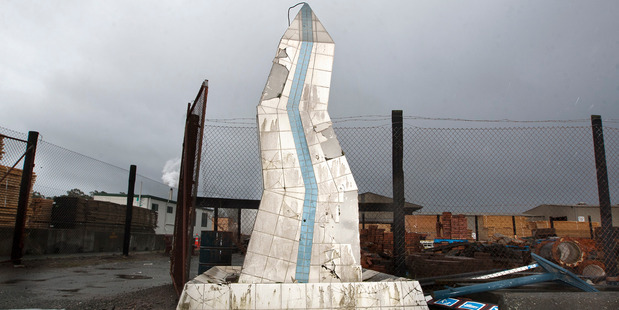 The residents of Ngongotaha may end up as new custodians of a long-neglected and controversial piece of art - the old lightning bolt sculpture.
During draft Annual Plan deliberations this week, Rotorua district councillors decided to give community group Progress Ngongotaha an opportunity to repair and re-site the sculpture - titled White Lightning - in the township.
The sculpture was originally gifted to the people of Rotorua by the Rotorua Area Electricity Authority in 1987, and was sited in the centre of the city's CBD in the Tutanekai Mall.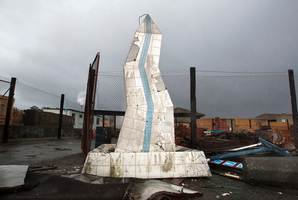 Click at left for more pictures
It was removed during the re-design of the City Focus and finally moved to the Castlecorp yard on Vaughan Rd in 1997, where it has sat since.
Progress Ngongotaha chairwoman Lynn Benfell said she was excited at the prospect of having a piece of Rotorua history in the township. She said Ngongotaha was the site of the first power line to come from the Arapuni hydro-electric power station around 1930.
"We haven't discussed anything with the broader community yet, but we have an opportunity to have something quite significant here.
"If we don't get the community's support I'm not too sure what we will do but, it won't cost them anything and we would love their support."
She said the Railway Park had offered space for the sculpture while it was being fixed, and local artist Paul Nicolai had been in touch with the original artist, Terry Stringer, in the hope he would help with its restoration.
Born in Cornwall, England, in 1946, Terry Stringer's art has become more popular in recent years after he emerged as an artist and sculptor in the 1980s.
He has been commissioned to complete sculptures for high profile public sites including Cathedral Square in Christchurch and outside the Holy Trinity Cathedral in Auckland.
"We are wanting to have some input from Terry and some guidance in how we can restore it," Mrs Benfell said.
She said one possible location was near the old Gantry restaurant building on Western Rd.
"I'm sure we have some skilled people out here who can help and it would be part of our sculpture trail out here too. It didn't have a very good beginning in Rotorua - people either loved it or hated it, so it has an interesting story," she said.
Ngongotaha News editor and long-time resident Ann Henderson said she didn't think the Ngongotaha community would get behind it.
"Consult with the people first and see what they feel. I've heard nothing of it until now.
"I can think of a lot of other things that could be better for Ngongotaha - this is a hideous thing and I was not sorry when it was removed," Mrs Henderson said.