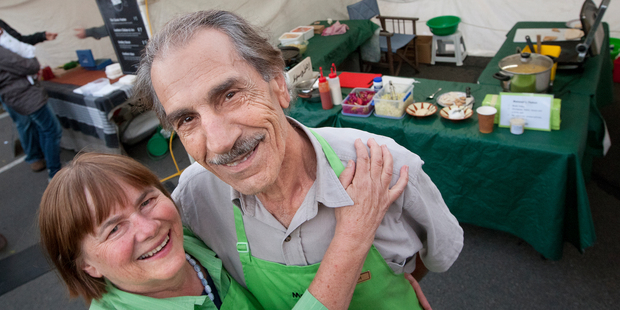 Nabih Mansour's life story has all the hallmarks of a bestseller and the film that would likely follow would be a ripper watch, in comparison we can but give it a thumb-nail sketch.
Since infancy the Palestine-born Nabih's lived as a displaced person, a refugee caught up in wars in explosive Middle Eastern trouble spots, someone officially classified a stateless person without a passport, a man whose life has been blighted by poverty, the sorrows and joys of families both lost and won.
As all good stories should Nabih's has a happy ending, finding fulfilment in sharing food in the safe haven he once could only dream of - "beautiful, beautiful Rotorua".
By necessity Nabih's tale must be one of two people, the other's his wife Cate Fray, they married four years ago. Touchingly, she's the widow of Nabih's close friend, Willi Fray, whose life was terminated by cancer. But we are racing ahead far too fast, so to start at the sensible place - the beginning.
Nabih was 6 months old and Palestine on the cusp of becoming Israel when paramilitary thugs tore his home village apart, wrenching the Mansours from a thriving olive grove.
His sister carried her baby brother out in a basket on her head. Those too old or frail to work were left behind, Nabih's grandmother included; his 9-year-old brother remained to care for her, their mother conscripted to become a domestic servant far from her children.
"The rest of us were thrown on the back of trucks, dumped in a field, forbidden to return home."
Nabih's education was rudimentary, at 14 he took up panelbeating.
Six years on he crossed the border into Syria where fleeing relatives had settled, next stop strife-torn Beirut.
Forbidden by Lebanese law from full-time employment, he hired himself out as a casual labourer, it was a hand-to-mouth existence.
When the first of his three children was born there was insufficient money for milk.
"I went out on the street, someone asked me to help fix a window, that gave me enough money for milk powder."
Work remained sporadic, his pay a pittance.
In 1978 a cousin, the director of an international school in Abu Dhabi, offered him a job maintaining and driving its buses. With the United Arab Emirates refusing to allow his family entry he was forced to leave them behind.
It was in Abu Dhabi the Frays and Nabih met, the Kiwis were teaching there.
Cate takes up the story: "Nabih only spoke Arabic, we invited him for coffee and began teaching him English, with no entertainment available we spent many hours sitting around with people of many nationalities, learning about justice and injustice throughout the world, Nabih's life was very, very unjust."
When Cate became pregnant the Frays returned to New Zealand. The couple's second son was 6 months old when his father's cancer was diagnosed, he was given six months to live.
Willi survived a further 14 years, they were years the Frays made the most of.
"Being optimistic people we approached VSA [Volunteer Service Abroad] for work, we were sent to teach in Kiribati where, over two years, we learned life's not all about money."
Throughout Willi's illness and after his death Nabih stayed in close contact, inviting Cate to holiday in Abu Dhabi in 2004.
"For some reason I took my CV, staying six years teaching and falling in love with Nabih [by then divorced from his Lebanese wife]."
Conscious her parents "weren't getting any younger" she came home, Nabih made three visits, on the third they married.
"It wasn't a romantic proposal I said 'shall we get married?' and he said 'okay, next week'."
The wedding was in Rotorua's registry office, "It was so lovely the girl who married us cried."
They'd chosen Rotorua as their New Zealand home on the recommendation of Cate's sister, already living here.
Cate became the bread-winner, job-sharing with her sister at RAVE, while Nabih went to Waiariki to polish up his English, volunteering at the Hospice shop as its resident ironer "living alone I learned to iron well" and, ironically for a Muslim, at St Luke's Anglican church, cooking for its drop-in centre.
U3A's (University of the 3rd Age) Cooking For One group signed him up as its instructor.
With his culinary reputation sealed, Mansour's Kitchen became a permanent night market fixture, serving up traditional Palestinian home cooking - Nabih's falafels are legendary, but don't waste breath asking him to part with his recipes. Like the KFC's Colonel, his dishes are a top secret combination of herbs and spices.
Unable to keep up with customers' on-site demands Nabih installed a commercial kitchen at home for his prep work.
Taking us on a tour, Cate points out the health and safety and management certificates on the wall.
"Nabih's very, very proud of these, they're the only certificates he's earned in his hard life."
With Palestine no longer on the map Nabih's officially a stateless person. Not yet eligible for a Kiwi passport, he's saddled with a travel document with such tight restrictions he's unable to transit through Australia. Cate compares travelling with him to travelling with a criminal.
"That travel document carries the stigma of him being a Palestinian, this stereotyping of people because of where they were born breaks my heart."
NABIH MANSOUR & CATE FRAY:
Born: Nabih: Palestine, 1947 "my birth certificate's in English, Arabic and Hebrew"; Cate: Manurewa, 1951
Family: Nabih: Two daughters one son in Lebanon, two brothers two sisters (has not seen his brothers or one sister for 47 years. Cate: Two sons
Interests: Nabih: Cooking, volunteering, gardening, reading books in Arabic, following the news in English, has plans to teach Arabic locally. Cate: Cycling, walking, Zumba, socialising, U3A Art History group
Defining Nabhi's Muslim faith: "Moderate, progressive."
Personal Philosophies: Nabih: "It doesn't cost you anything to be nice to people." Cate: "A smile is the most important thing you wear."