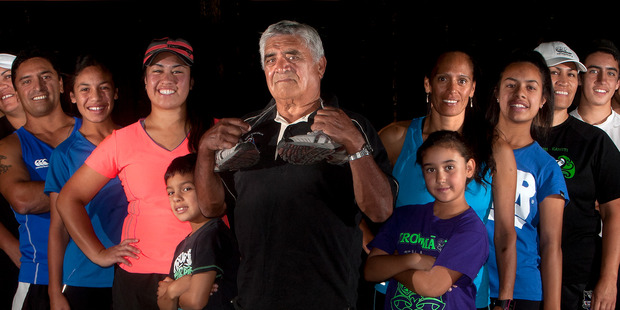 Reporter Mike Watson meets an inspirational Rotorua family who are taking on the 50th Rotorua Marathon
Lynda Vercoe vowed never to do another marathon again after she completed the 40th Rotorua marathon 10 years ago.
But Lynda's whanau - the Ormsbys - are a family who thrive on challenges. Whether it is baking a cake, washing cars or becoming budding entrepreneurs, the extended Rotorua family relish the chance to set goals and reach their targets.
After entering energy-sapping events such as Iron Maori, Boot Camps, Tough Guy and Tough Gal, and triathlons, they've now got the finish line of the 50th Rotorua Marathon in their sights.
They're a close-knit unit - holidaying and playing sport together - so when someone says "let's do it", procrastination goes out the window.
And that's really how the idea to take on 42.2km of bitumen around Lake Rotorua took hold.
"We were at a whanau ora meeting last year, and thinking what we could set ourselves as the next challenge," said Lynda.
"Then someone came up with the 50th anniversary of the Rotorua marathon, and why didn't we try it as a family."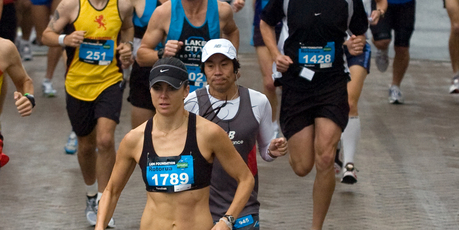 Fourteen of the 21 whanau members have entered various distance categories from 5km walk to the full 42.2 km marathon run.
Lynda, her daughter, Mariana, Lynda's sister, Jacque Webber, Jacque's son, Jordi, and her brother, Tracey Ormsby, have entered the full marathon.
Lynda's husband, Fred, sons Sean, 21, Eriata and Te Reiwhati, both 13, nephew Reece Webber, 14, and niece Tiana Ormsby, 14, will walk or run the 10km section.
Cousins Jana Webber, 8, and Kataraina Ormsby, 12, have entered the Friday night children's event, and 5km race respectively.
Family patriarch Bunny Ormsby, 74, will walk the 5km section of the event.
"We've always been a very sporty family," said Lynda, a former teacher who's now a social worker/kaitiaki with Tipu Ora.
"We enjoy whanau time together. It gives us an opportunity to uphold whanaungatanga which is always uppermost in our minds because it helps to keep our family ties strong.
"The marathon was a lofty aim, a physical challenge we could all do as a family. Jacque was the one who pushed us on, she was the inspiration. Once the idea was spread around the rest of the family, the kids were enthusiastic."
There's history in the family of playing a lot of sports: league, rugby, touch, basketball and netball.
"We had a family netball team, Korokoro, for 13 years. Sport has always been in our bones."
Bunny Ormsby found little spare time for sport instead focusing on work and a young family, Lynda said. He has regularly walked 3.5km every day for the past five years to keep healthy.
"We're really rapt he is going to do it," she said.
It was their mother, Molly, who got the family involved in sport, and who died 10 years ago of cancer. Molly was the Korokoro team manager who ensured everyone got to training and games on time, she said.
"She was a very significant figure in our early lives."
The whanau holiday together in places such as Aotea on the west coast, Wellington and Whanarua Bay. It is an ideal time to create challenges among themselves.
The 50th anniversary marathon is another challenge.
"We're very competitive and we like to create other challenges, whether it is sport, or other skills," said Lynda.
In the past, they have devised ways of helping the younger members learn about personal finances. The skills learned would help towards completing the marathon, Lynda said.
"It is not necessarily about how much money can be made but what is learned along the way, teaching independence, motivation and networking.
"Some of the younger ones know that it won't just happen, you need to work hard for it."
Fitness levels vary greatly within the group with Jacque, a trained nurse and Zumba instructor currently training for the Taupo Ironman, topping the list. Jordi balances performing in boy band Titanium with marathon training, while Fred keeps active with cross training.
"I just want to set an example for our children and whanau," Fred said.
Mariana and Lynda run three to five times a week, while Jacque helped Tracey with swimming.
There was no shortage of motivation, said Lynda.
"All of us are self reliant to do the training," she said.
Lynda and a friend were among the last to finish the 40th Rotorua marathon.
"We walked non-stop, keeping the same pace, just happy to be talking away in our own little world," she said.
"I remember we were near the end and at Te Ngae, and the strength in my legs just went. My legs got very sore and began to ache."
As they approached the racecourse, the daylight began to fade and it started to rain.
"I lifted my hand up and I couldn't feel anything, even the rain - my arms were numb."
Lynda's husband, Fred, was at the finish line waiting with a bottle of grape juice and two glasses when they came in around 6pm.
"I saw Fred waiting but all I wanted to do was go to the hot pools and soak."
She vowed to do better this year.
"If I can take an hour off the time, I will be happy."
Jacque hasn't considered a time to finish, while Jordi was "happy if I do four to five hours", he said.
Twins Eriata and Te Reiwhati and cousins Kataraina and Reece "will probably run and giggle their way around", Lynda said.
"Shoe freak" Jacque had bought another pair of running shoes to add to her collection of 50.
"These are fantastic - I'm a colour person, I like the bright colours."
Family and friends would provide support.
"It's just as important for them to be there to give encouragement, to hand out refreshments, or cheer the others on," Lynda said.
Some of the family members have volunteered for a 12-week weight loss programme - "hinu" - focusing on calories and hydration, drinking lots of water.
The daily bottle of Coke on the dinner table has been replaced with fruit water.
"It wasn't good for our health, so I've replaced it with a big jug of water with fruit," Lynda said.
The family were proud how Bunny had turned his life around and become health conscious, she said.
And he said he would treat the day as another of his daily walks.
His main concern will be to alleviate the pain in his hips after exercise.
"On the day, I might be only 90 per cent but we will be 100 per cent behind each other."
The family will celebrate afterwards.
"Any excuse to come together, enjoy each others' company, celebrate success, share our marathon experiences of the race," Lynda said.
"We want to try and encourage families to get together as a group for an event.
"Families are falling apart - we just hope we can inspire them to do the same thing."
Lynda previously regarded the marathon as an event for young, fit and active people.
"We lived at Owhata and, for years, we would stand outside the house and watch the marathon runners go past.
"There were quite a few grey-haired people. I thought if they can do it, we can as well.
"The marathon is for everyone - anyone can do it if they do the training.
"And Rotorua is our home, which is another good reason for entering."