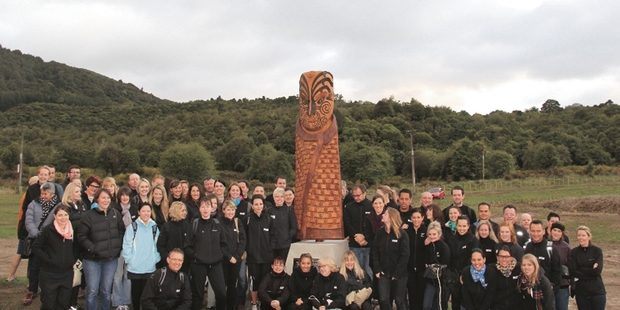 More than 80 Tourism New Zealand staff from across Australasia have spent the past three days hosted by the people of Te Arawa and Tuwharetoa.
The three-day visit, which included a series of workshops, internal strategy sessions and cultural activities, was initiated and hosted by Maori in Tourism Rotorua in partnership with Destination Rotorua Marketing and other local industry partners.
Maori in Tourism Rotorua co-chair Kiri Atkinson-Crean said the purpose of the visit was to reposition the region in the hearts and minds of Tourism New Zealand and to foster cultural understanding that could contribute to the promotion of tikanga Maori both nationally and internationally.
The visit, between Monday and Wednesday, drew inspiration from two important Te Arawa proverbs, "Te Arawa mai i Maketu ki Tongariro" (the bow of Te Arawa rests in Maketu and the stern at Tongariro) and "Nga pu manawa e waru o Te Arawa" (the eight beating hearts of Te Arawa).
Ms Atkinson-Crean said the itinerary involved bringing the proverbs to life with different groups visiting eight significant sites throughout the wider central North Island, between Maketu and Tongariro.
Each visit included activities such as fishing and gathering pipi at the landing place of the Te Arawa waka, Maketu, white water rafting on the historic Kaituna river, journeying to the summit of Mount Tarawera, and visiting Mokoia Island, the stage for Hinemoa and Tuntanekai's love story.
There was kayaking, hunting and tramping and, at Tongariro, a chance to visit Opotaka, where Te Rauparaha composed his Ka Mate haka. Each group was led by a Te Arawa or Tuwharetoa kaumatua and a Maori tourism host.
They also gathered kai specific to the area they were visiting, including koura, tuna (eel), fresh water koura kumara, venison, trout and local herbs and medicines associated with eating or traditional Maori healing.
Ms Atkinson-Crean said: "Our Te Arawa ancestors were at the very forefront of the development of tourism in New Zealand and the tribe has been hosting manuhiri [visitors] since the 1800s, thanks to high-profile visitor attractions such as the Pink and White Terraces, the region's original Maori guides, and the unique cultural and geothermal experiences that were on offer in the likes of Te Whakarewarewa Valley."