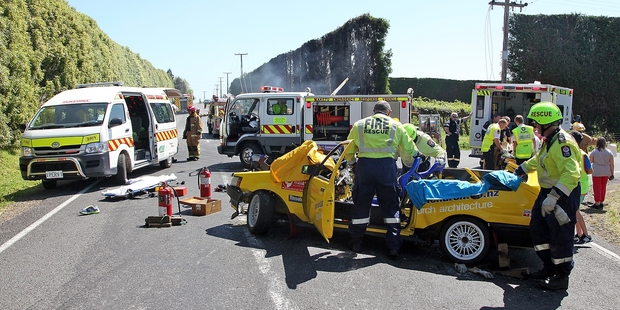 A Rotorua rally driver, trapped in his car as flames threatened, was saved by spectators.
Dave West, 54, was racing in the Old Coach Road Tarmac Sprint in Pukehina yesterday when he lost control of his Toyota Corolla GT and slammed into a concrete power pole, which fell into a large hedge and ignited a fire about 1.15pm.
His co-driver was able to free herself from the wreckage but Mr West was trapped inside as the flames crept closer.
Bystanders, including Colin Smith, raced to his aid. They tied a rope to the car and towed it away from the flames.
Mr Smith said Mr West was negotiating a hairpin bend in the course when the crash took place.
"He came down here, dropped a wheel on the grass, it half spun and he hit the concrete power pole."
The power pole fell into the hedge and sparks from the live wires started the fire, he said.
"The fire in the hedge was quite intense."
It took firefighters an hour and a half to free the man from the wreckage of his car.
Constable Kurt Waugh said it appeared the car's brakes locked up, causing it to leave the road. The front driver's side of the car collided with the power pole, trapping the driver by the legs, he said.
Rally organisers stopped the race after the crash.
Pukehina fire chief Errol Watts said the car had come over the hill at about 180km/h but was slowing down when the crash occurred.
"There was some braking when he hit the pole but he absolutely demolished the pole and the frame on the car just bowed in. He must have been doing a fair rate of knots when he hit it," he said.
Mr Watts praised the actions of the rescuers.
"He started to have some light blistering. Much longer and he would've been buggered," he said. "He was extensively trapped. It was a rally car so all the extra reinforcing made it harder to get him out."
Once freed, Mr West, who was conscious throughout the ordeal, was treated, driven to the BayTrust Rescue Helicopter, which was parked in a nearby field and flown to Rotorua Hospital with fractured legs. His injuries are not believed to be life-threatening.
Motorsport New Zealand general manager Brian Budd saidhe expected to receive a full report from the club that organised the event.
"It is motor racing and it does happen," he said.