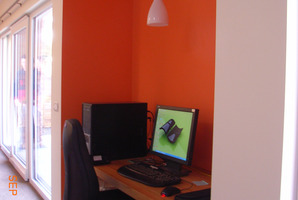 I work mainly in colour and, fortunately, many of the people who contact me are open to using colour and not necessarily work with the trends of the time.
Usually if a client is going to stay in their home for a long period it is better that it work for them rather than be trendy as trends change.
My studio is attached to my home and was designed for maximum light so I could work easily with colour. I had the ceiling and walls painted white with rimu reveals which matches the original part of the house.
When I had it renovated people kept asking me what colour I had used and I think people are surprised to see I had chosen white. White was really the only option because of the amount of colour I work in. I didn't want to have colours fighting and distorting one another bouncing from one wall to another. And white isn't always white -- it is often a soft grey or takes on other colours because it is so reflective.
I have flat on the ceilings, which look great with the different levels, Wash and wear low sheen on the walls with semi-gloss on internal doors and reveals.
And of course a rich red entrance door with my sign above the door. Red is such a welcoming colour.
And which white you might ask? White is white isn't it? When I refer to white I mean pure white with no tint added. I do, however, have a rich aubergine carpet with an accent colour in green. Because of the large windows and skylight in the room the accent colour is the natural foliage of the trees from outside which tends to give the room a soft green tint in the afternoon as the corrugated roof bounces light on to the trees and back down into my studio space. So my best working light is in the morning when the light is most pure.
I had custom built ply bookcases and shelving made because I needed to keep furniture simple and neutral.
Once books, flooring samples, fabric swatches and hangers, and kitchen samples started to fill the spaces there was endless colour in the room. Here, I was trying to escape colour to be able to work with it, but that is never the case when a room is complete and I love working with white. I like the crispness, the play on gloss levels and the way light dances and changes with shadowing or accent colours and also the way it opens a space.
White isn't a colour I normally wear as it tends to suck the natural colour out of my skin tone and makes me look quite ill. I do wear white linen in the summer though, as my skin is a different colour and can cope with it. But in my house it's a different story. I have white walls in some areas with a richly coloured ceiling and vice versa. I prefer white to off-whites or hints of tint added to white, but white doesn't always work in some cases, so each project I work on is very much individual. I work with the personalities within the walls of a home and the treasures that people possess.
When I first had my studio painted people commented that the room would be too stark and cold. Any room has the potential to be that but it depends on what you include in the space that changes the feel of the room. Once you start to break down the wall spaces with windows, window treatments, art work, mirror, large pieces of furniture and by adding texture, and the walls tend to disappear and become the perfect backdrop.
When decorating, people tend to look at the elements of a room as individuals but in reality it is the finished product that you need to consider because the room is not going to be kept empty and just painted no matter how much you love that wall colour. When working with rich wall colour you use the same process. I've often worked with clients where I have suggested a rich colour for either one wall or the whole room.
Rich means saturated colour, anything from deep purples or chocolate brown, or it might mean bright orange for a feature panel.
So even if I can visualise a room, my clients often can't so I need to be able to talk that process through and make sure they know what I'm talking about so we are both comfortable with the choices. What may appear too stark, too dark or too light in an empty room will only remain that way until the room is complete.
I am available for speaking engagements and can be contacted below.
*Terry Lobb is an interior/kitchen designer and personal colour and style consultant who takes a holistic approach to living with colour, texture and style. Email: terry@terrylobb.com;