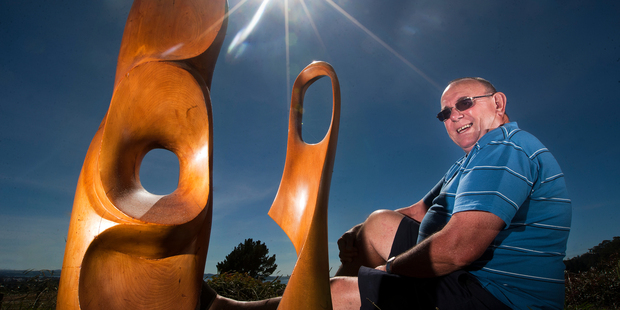 When the 2014 school year began John Raphael didn't pack his lunch box or pull on his traditional classroom shorts, instead he headed for the Lake House Sports Bar's 8 ball table.
John wasn't playing hooky, he was celebrating his first day free from moulding the country's future adults, his job for the past four decades. Apart from two years in Apia, his German-Samoan father's birthplace, all have been in Rotorua.
It wasn't his first choice, his sights were set on Whakatane High where, as a trainee, he'd spent time "on section" absorbing the dictum he followed throughout his career. "I sat in on a guy called Bernard Brown's Latin classes and never heard him say 'you are wrong' or put a kid down, rather he'd ask them a question back, it helps kids think, that's the way Socrates operated."
Socrates, goodness, were we getting way out of our league here tied up in a complex dissertation of classical proportions? Not with John Raphael we weren't.
Latin scholar he may be, but rugby's his sporting passion. He's built as the hooker he was, nuggety and broad of shoulder; if he's going to wax lyrical on any topic rugby's it.
He's also an accomplished wood carver and for the past few years has been caregiver to his tetraplegic mate, Pete O'Flaherty. John took over when his wife, Jennifer, moved from nurse aiding into nursing.
The "boys" bonded over rugby. "Pete was a hooker until a scrum collapsed on him, I look at him and think 'there but for the grace of God go I'."
While Whakatane High didn't have a vacancy, Rotorua Boys' did; he was accepted, sight unseen, to teach French and English.
"Ted Hamill [principal] must have wondered what the hell he'd struck - I had long hair, he hated long hair."
It was logical John would coach rugby in the traditionally rugby-mad school. "Once you shed your teaching persona and demonstrated humour you got close to the guys."
John needed every ounce of humour he could muster the day he invited the 1st XV and around 50 "hangers on" home for a hangi. "When we opened it the sheep I'd buried ran off.
There were only two things to do, jump in the car and speed off or roast it."
The Raphaels chose the latter.
"It was mortifying but turned into a wonderful connection."
John doesn't flatter himself that he was at the helm in Boys' High's glory playing days.
"Heights [Western Heights High] and Tauranga had excellent coaches ... I was way out of my depth."
At his farewell to teaching, ironically at Heights, he paid tribute to the late Bruce White.
"He was the brains behind their [rugby] success, but I have to admit I didn't enjoy him when I was coaching against him."
John became a devoted Waikite club man, buying his family's first home a drop kick from its clubrooms. Before they opened he was a Palace Tavern regular, meeting Jennifer there. She was a transtasman visitor. "I fell in love with her once I got past her Aussie accent."
They married two years later.
For the Raphaels 1978 wasn't a good year. After a string of bereavements their first daughter was stillborn. John applied to teach at Samoa College.
"When I walked in this German Samoan said he was my cousin and I'd be coaching rugby."
The story of his German great grandad's Samoan arrival would have made bestseller material for the island groups' Scottish import author, Robert Louis Stevenson.
Charles Netzler sailed the South Seas with infamous pirate Bully Hayes. "When he mutinied over the way Bully was blackbirding [slave trading] Bully had him partially disembowelled and thrown overboard."
Charles pitched up on a Samoan shore where a local woman found him. "She washed out his guts and my great grandad, who'd had a bit of medical training, sewed himself back up." Naturally they married.
While the couple were in Samoa, Jennifer became pregnant again.
The hospital's superintendent told her she'd be better off delivering in Rotorua. That doctor was long-time Rotorua medical man the late Dr Keith Ridings.
"When Jennifer brought our new daughter, Jo, back to Samoa local women couldn't keep their hands off her strawberry blonde hair."
His Samoan contract up, John returned to Rotorua, working with unemployed youngsters on a YMCA work scheme. When the government of the day pulled the plug on these John joined the then Social Welfare Department as a social worker.
He lasted 2 years. "It was a conveyor belt job," is his explanation for his return to Boys' High, taking on a class of what he unashamedly calls "troublemakers, most with learning difficulties ... I enjoyed that".
However, when classical scholar Geoff Crammond became principal John did a U-turn, asking if he could introduce classical studies.
"Geoff said 'if you get the numbers', we did but those classes were terminated in 2008, that was a big disappointment."
John moved to Western Heights, working part time, combining general studies classes with a demolition yard job. "I was being crafty, preparing for my retirement."
One term into that retirement he's sandboy content, caring for Pete, carving, having an 8-ball cue in his hand and coaching his 6-year-old grandson at the Waikite Club. Where else?
JOHN RAPHAEL
Born: Auckland, 1948.
Education: Edendale Primary, Balmoral Intermediate, Mt Albert Grammar, Auckland Teacher's College and University majoring in Latin. "It's always fascinated me though I knew it was a dying language, that I was painting myself into a corner wanting to teach it."
Family: Wife Jennifer, daughters Jo and Meg, sons Ben and Zac, six grandchildren.
Interests: Family, walking, carving. "I've whittled since I was a child getting bashed over the head for blunting my mother's knives," nattering with his tetraplegia pal, snooker and 8 ball, coaching the Raphaels' next rugby generation.
Personal Philosophy: "I can, therefore I will."