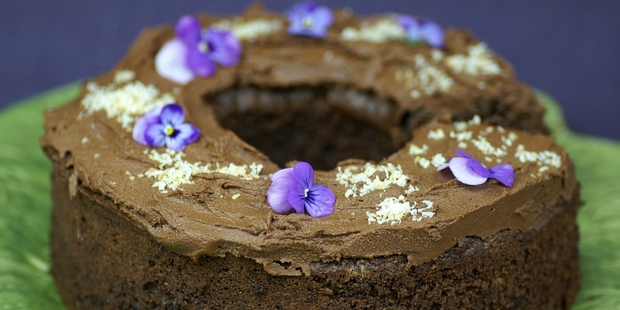 I used an all-purpose gluten-free flour.
Ingredients:
175g butter
3/4 cup caster sugar
3 large eggs, separated
200g dark chocolate, grated
1/2 cup ground almonds
1 cup gluten-free flour
1 tsp baking powder
1/4 cup dark cocoa powder
2/3 cup milk
Chocolate Topping:
50g butter, softened
1 cup sifted icing sugar
50g dark chocolate, chopped and melted
Method:
Set oven to 180C. Lightly grease and line the base of a 5-cup, non-stick ring pan, about 21cm in diameter.
Beat butter and caster sugar, until creamy. Add egg yolks one at a time, beating well after each addition.
Fold in chocolate and ground almonds.
Sift flour, baking powder and cocoa. Fold into butter mixture alternately with milk.
In a clean bowl, whip egg whites until soft peaks form. Stir 3-4 tablespoons into batter then gently fold in remaining egg whites. Spoon into prepared pan.
Bake for 40-45 minutes, until a skewer inserted in centre comes out clean. Cool in pan for 5 minutes then turn out on to a wire rack.
To prepare the topping, beat butter and icing sugar, until creamy. Beat in melted chocolate. Stir well. Spread over cake.