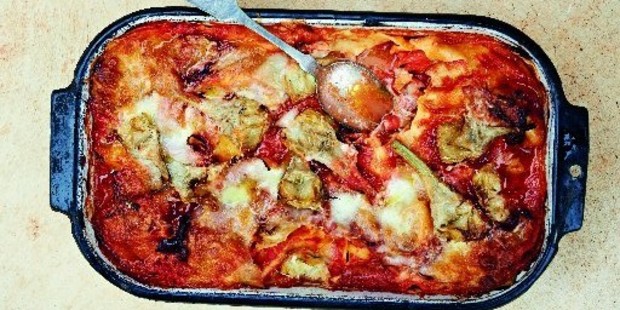 Bill Granger is a down-to-earth, laid-back chef. He would never consider himself a celebrity even though he has many cookbooks to his name and several television series under his belt.
The father of three young girls spoke to COLLEEN THORPE about his life and a
holiday in Italy which sent him home optimistic, revitalised and striving to be 'a little bit more Italian'.
What is it about Italy that makes us think fabulous food?
The fact that it is so uncomplicated. Everyone is relaxed. It's comforting and easy. And in Italy it's not just about the food, it's about the people, too.
Other than Italy, what has been your favourite food and travel destination?
Definitely Japan. It's very different and very refined. The noodle bars there blow you away. And the food is part of the culture.
When visiting another country how do we find the best of local food?
Use your nose. Walk out the door and look around. You can tell a place is good if it has plenty of diners - and is clean. Sense of discovery is half the fun.
How did you decide on the recipes for this book?
I didn't want to do a traditional Italian cookbook. I grew up with Italian food and the recipes come from those memories. It's the essence of Italian food with a personal twist.
What is your favourite recipe?
My girls' favourite is the chocolate hazelnut cake. It's rich and decadent - you only need a small slice.
What are the staple ingredients of Italian cooking?
Anything that's fresh. Cheese, especially parmesan and mozzarella. And olive oil -
extra-virgin is great for drizzling. Plus tomato puree, any cured meat, such as salami, prosciutto and pancetta, and fresh veges.
Where did you get your love of cooking from?
Some of us are born loving to eat, loving to cook. It's definitely a pleasing thing ... it's cooking for people, celebrating people.
Who does the cooking at home?
When I'm home I cook.
What is the first thing you remember cooking?
Chicken and sweetcorn
soup from the Australian Woman's Weekly Chinese Cookbook.
Do your gorgeous girls help you in the kitchen?
Absolutely. One is passionate , she loves it, gets lost in it. The eldest is resisting, however, she likes to be cooked for.
What three New Zealand foods do you love the best?
Ah, this may be contentious. Pavlova. That's Kiwi, isn't it? Fresh seafood, mussels in particular, beautiful; lamb. And I love the earthy taste of a hangi.
What three things about you would surprise us?
I don't like offal or pate. I eat absolutely everything else. I had an accidental start to my career. I was working as a waiter in a restaurant and they were short on staff. I got transplanted to the kitchen to fill in. I failed home economics at school.
EXTRACT: BILL'S ITALIAN FOOD
ARTICHOKE AND HAM LASAGNE
By the time I've bolognesed, bechameled and layered, I find traditional lasagne requires an entire Sunday afternoon to complete. I love the whole process when I'm in the mood, but I'm also a fan of the short cut - and this is a short cut that, I think, surpasses the original. The flavours are inspired by ham and artichoke pizza. You could use thin slices of prosciutto crudo here (such as Parma ham or San Daniele), but I prefer cooked ham (sold as prosciutto cotto in Italy).
INGREDIENTS
680ml bottle passata
315g fresh lasagne sheets
220g sliced good quality cooked ham
3 x 125g balls mozzarella cheese, torn
3 tbsp freshly grated parmesan cheese
400g good quality artichokes in olive oil, drained and halved
METHOD
Preheat the oven to 200C. To assemble the lasagne, season the passata with sea salt and spoon a small amount into the base of a 20cm x 30cm ovenproof dish. Cover with a layer of lasagne sheets, quickly dipping the sheets in a bowl of cold water first before using them.
Spoon over a third of the remaining passata, then half the ham slices, 1 of the mozzarellas and 1 tablespoon parmesan. Cover with another layer of dipped lasagne sheets then top with half the remaining passata, all the ham, 1 mozzarella and 1 tablespoon parmesan. Add the final layer of lasagne sheets. Scatter the artichokes over the top and spoon over the last of the passata, mozzarella and parmesan.
Bake for 30 minutes, or until the cheese is bubbling and golden. - Serves 4 to 6
Bill's Italian Food, by Bill Granger, HarperCollins, $59.99