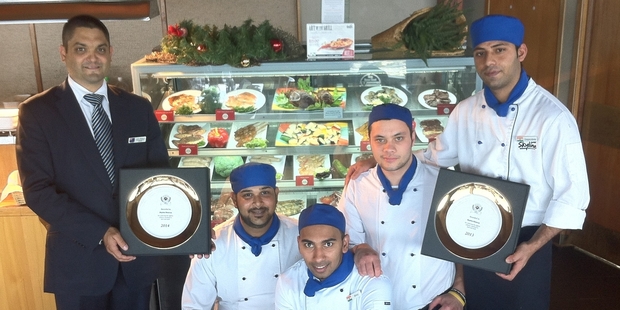 A dedication to quality and a stellar line-up of award-winning team members has seen Skyline Rotorua recognised with a 2014 Beef and Lamb Excellence Award for the second consecutive year.
It was one of seven Rotorua restaurants to earn the prestigious award, which is only given to restaurants whose beef and lamb cuisine reaches the highest standard of New Zealand fine dining.
Skyline received the award for its East Cape-raised Wagyu Angus-cross scotch fillet and Canterbury High Country lamb. Both dishes are cooked to order from the Art of the Grill menu, which sits alongside the buffet dining.
Skyline Rotorua general manager Bruce Thomasen said the team, led by food and beverage manager John Watson and executive chef Fred Kreutmayer, were thrilled to receive the award for the second time.
"Last year's award was a first for us, so to follow it up with a second award the following year is tribute to the superior quality of food and service our restaurant staff consistently produce.
"The Beef and Lamb Excellence Award tops off a stellar year for our restaurant team, with Kane Peni receiving the Unilever Food Solutions Emerging Chef Award and Nitin Brijwal winning the Waiariki Institute of Technology Outstanding Waiter Award in the 2013 Rotorua Hospitality Awards, as well as being nominated for Best Restaurant.
"We are very proud of what we have achieved, especially because we pride ourselves on constantly striving to develop innovative, new flavours and techniques," he said.
Judges' descriptions of the meals included "exceptionally flavoursome" and they praised the high quality, perfectly cooked, well rested and tender meat cuts of both dishes.
Their comments highlight why Skyline Rotorua uses only the highest quality produce, prepared with skill and care. "We have now set a precedent for providing outstanding beef and lamb dishes, combined with the best views in Rotorua and look forward to keeping up these levels of excellence into what promises to be an exciting 2014," Mr Thomasen said.
Other restaurants to receive the award were Aorangi Peak Restaurant, Bistro 1284, Mac's Steaks, Mokoia Restaurant, Regent of Rotorua and Urbano Bistro.