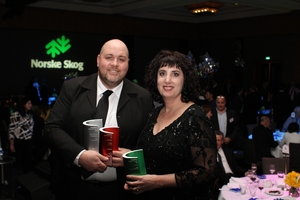 The Rotorua Daily Post has been named Newspaper of the Year in its category at the prestigious PANPA international newspaper awards.
The awards, in Sydney on Thursday night, saw your local newspaper take out the Newspaper of the Year up to 10,000 circulation title.
Chief photographer Stephen Parker topped a great year by winning the regional Photography Portrait of the Year with his shot of Rotorua pensioner Gavin Hayes.
PANPA (the Pacific Area Newspaper Publishers' Association) covers Hong Kong, Singapore, Malaysia, the Pacific Islands, Australia and New Zealand.
The accolades came a day after the newspaper's advertising manager Janine Davy took out the PANPA award for Advertising Manager/Director of the Year.
The Rotorua Daily Post was also a finalist in Digital Destination of the Year for its website, photographer Ben Fraser was up for regional News Photograph of the Year and Mr Parker was also a finalist in the regional Features Photograph of the Year.
The awards have capped a remarkable year for the Rotorua Daily Post, after it earlier won 12 APN regional awards and Mr Parker took the Senior Photographer of the Year title at the Canon New Zealand Media Awards.
Editor Kim Gillespie, who was at the awards ceremony, said he was incredibly proud of the entire team for their dedication and hard work. He said he was thrilled it had resulted in such a prestigious accolade.
General manager Matthew Sherry said the newspaper had gone from strength to strength, particularly since the launch of the morning compact newspaper in March.
"These awards are welcome acknowledgement for all the hard work that has been put in to bring our readers the very best coverage."
APN stablemate the Herald on Sunday was named Sunday Newspaper of the Year.
The full APN NZ award list is:
TEAM RECOGNITION:
* Herald on Sunday, Sunday Newspaper of the Year
* Rotorua Daily Post, Daily Newspaper of Year (tied with Shepparton), up to 10,000 circulation
* The New Zealand Herald, winner major newspaper marketing category (circulation 90,000+) for the successful NZH compact launch campaign
* Herald on Sunday, winner environmental journalism category for its beaches campaign
* The Bay of Plenty Times, marketing excellence in 10-25k circulation, new look Wednesday editions.
* The Bay of Plenty Times, best advertising feature or supplement in 10/25k circulation for the 140th anniversary feature.
* NZM digital team for best dedicated digital environment for a client, the Mercedes One to Watch campaign
INDIVIDUAL RECOGNITION:
* Janine Davy, Advertising Manager/Director of the Year - advertising manager, Rotorua Daily Post
* Sarah Dyer, Classified Sales Executive of the Year - real estate account manager, New Zealand Herald
* Richard Robinson, national/metropolitan features photographer of the year for his great whale migration photo essay.
* Stephen Parker, portrait of the year, Regionals for his portrait "Stolen"