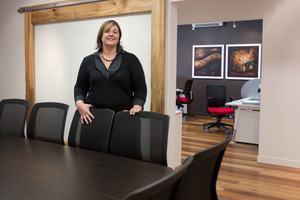 The global trend of co-working spaces has come to Rotorua with the opening of Flair Space in the CBD.
Located in the former Red Spot Gallery on Haupapa St, it's an open plan space with eight pods that can be hired for anywhere from one to 365 days a year. There is also an executive boardroom for hire.
As well as allowing small businesses and entrepreneurs to share the cost of offices, it's hoped the space will encourage networking and foster creativity and innovation.
Rachael McGarvie, Flair Marketing director, came up with the idea along with husband Darren McGarvie of Flair Consulting.
Both worked from home, but recognised that wasn't always ideal.
"Working from home has many benefits but we found that we had lots of downtime in between meetings where we needed some space to work. Trying to work and meet in cafes was not ideal and was not the most productive," Mrs McGarvie said.
"So we created our own space, as we work at our best in inspiring surroundings and thought we'd share it with like-minded people."
Mrs McGarvie believed Flair Space was the first of its kind in Rotorua, in terms of style and flexibility.
She said business success could often be helped by "chance meetings or serendipity" and the space could provide that for those working in Rotorua.
"We believe in and want to support the Rotorua business community and are passionate about bringing businesses back into the CBD."
Flair Space includes the use of a bar zone, espresso coffee, multi-function printer and ultrafast (fibre) broadband. Each of the business pods is named after New Zealand or global innovators, to act as inspiration.