Crossover segments fight for supremacy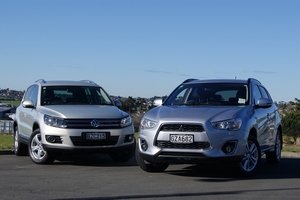 There is something the crossover genre is not lacking in New Zealand: choice. This is the most popular style of new car in the country and there are lots of little sub-segments, compact or large, mainstream Japanese/Korean or premium European and so on.
In this very competitive market these little segments are now starting to cross over into each other. Our two vehicles here are a case in point: the Mitsubishi ASX diesel and the Volkswagen Tiguan.
You can't get more mainstream than a Mitsubishi and the ASX reaches its pinnacle in the diesel model. It now sports the brand's new 2.2-litre powerplant with 112kW/366Nm, a slick six-speed automatic gearbox and an electronic drive system that can run in front-drive, on-demand four-wheel drive, or lock into a 50/50 torque split for loose surfaces and light off-roading.
The ASX diesel is good value for $41,990 in entry trim or $45,990 for the more generously equipped Sport version. On paper it looks like it could even give some high-priced European crossovers a run for their money.
But what if a high-priced European crossover came down to meet it? Volkswagen is on a mission to compete with mainstream brands, which is why you can buy a Tiguan for $39,990. That's right: a Volkswagen for $2000 less than a Mitsubishi.
It is true that you have to go without a few things to look posh for so little cash. Forget about an expensive-to-produce diesel engine for a start: the Tiguan is powered by VW's ubiquitous 1.4-litre TSI petrol-turbo engine with 110kW/240Nm, albeit with a six-speed dual-clutch direct shift gearbox (DSG). The entry-level Tiguan doesn't have four-wheel drive either: it's strictly a front-driver.
But still, this is an impressive vehicle for less than $40k and, assuming you don't want or need the extra ability of four-wheel drive, it raises an interesting question when compared with the ASX diesel: Where should your money go, top-of-the-range mainstream Japanese or entry-level European?
These two are very different to drive, naturally. The ASX has a modern diesel with a lot of torque, but it's a very noisy one. The Tiguan's petrol powerplant is also high-tech and while it doesn't have low-speed oomph of the Mitsubishi, it revs crisply and is much more refined.
For all their differences, these two powertrains are close in some vital stats. They have similar power outputs and performance. The VW is a little quicker to 100km/h (9.3s compared with 10.8s), although the Mitsubishi has the advantage in real-world acceleration, where that 366Nm of torque makes for easy open-road overtaking. It's also more thrifty, with fuel economy of 5.8 litres for 100km compared with 7.1 for the VW. So it's a lot cheaper to run.
Or is it? The ASX sips less liquid but by the time you factor in the dreaded road-user charges for this diesel vehicle the two are much Tiguan narrowly wins crossover stakes
The VW Tiguan interior (top left) and Mitsubishi ASX interior (top right); bumper to bumper (bottom left) lets you compare the profiles of the VW Tiguan ( left) and the Mitsubishi ASX; back view (below right) of the Mitsubishi ASX (left) and the VW Tiguan, which has more overhang. closer together. Based on those combined fuel figures it will cost you $143 to drive the Mitsubishi 1000km compared with $153 for the VW. Fuel for thought.
For ride and handling it's a clear win to the Tiguan, which has communicative steering and a supple chassis. Even if you have no interest in off-roading there is a disadvantage to the VW's two-wheel drive system: it's a softly sprung vehicle with a high centre of gravity so it's all too easy for weight transfer to result in wheelspin through tight corners - especially when that quick-shifting DSG gets into its stride.
It's a similar situation in the ASX if you run it in front-drive, but I don't know why you'd do that. The on-demand four-wheel-drive setting feeds torque only to the rear when slip occurs, so it doesn't really involve extra wear or higher fuel consumption.
Despite that extra traction, the ASX doesn't have the sophisticated feel of the Tiguan. The steering is not as progressive and the chassis is not as compliant or well-controlled.
In terms of cabin comfort and convenience the ASX looks pretty good on paper. It has a keyless entry system which the Tiguan lacks (it's a $1000 option), there's a nice colour information display in the main instrument panel compared with the VW's low-res single-colour display and the audio head unit is a 6.1-inch screen that incorporates a reversing camera. The Tiguan has reversing sensors only, accompanied by a basic display in the centre console.
However, the design, quality of materials and finish in the VW are far ahead of the Mitsubishi. The steering wheel is beautifully shaped, the dashboard is rich in soft-touch plastics and the switchgear (straight from the VW parts bin) has a durable feel. The Mitsubishi is ergonomically sound but there are far more hard surfaces, much less consistency in design and a general sense that this is a car built down to a price.
You do have the option of the ASX Sport (as pictured here), which ups the game with leather, paddle shifters, gas-discharge headlights, pushbutton start and 17-inch wheels. But that adds $4000 to the price and it's all equipment you can option into the Tiguan (aside from the 17in rims - it already has those). More to the point, $46k takes you even closer to the Tiguan TSI 4Motion at $49,990.
The Mitsubishi is more compact than the VW but rides on a longer wheelbase, so passenger space is still generous - although visibility from the rear seat is better in the Tiguan. There's more rear overhang in the VW, which makes it less elegant-looking in profile than the Mitsubishi but does result in much more boot space: 470/1510 litres with the rear seats up/down, compared with 384/1158 litres for the ASX.