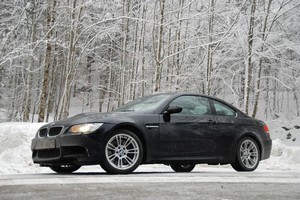 Sighting BMWs in the snow at the Southern Hemisphere Proving Grounds recalled a hair-raising alpine drive that answered the question: can a high-performance car cut it in a real world with ice and snow, or would it be a summer-only proposition suited solely to sunny Sunday drives and track days?
We'd taken the helm of a BMW M3 at the M performance arm's headquarters, and pointed its nose at Austria via a precipitous route that supplied a greater challenge than planned.
The M3 is a high-performance car. It packs a 4.0-litre eight-cylinder powerhouse under the bonnet, with 309kW and 400Nm delivered to the rear wheels for a zero to 100 time of 4.6 seconds in seven-speed auto format, the specification we were driving.
And it costs $176,000; BMW most certainly did not want it planted in a snow bank.
Initially that didn't seem likely despite temperatures well below zero, for the tarmac was snow-free, thanks to its layer of salt. But as the road climbed and the mercury dropped below salt's freezing temperature, things didn't look so good. Yes, we had a full bag of electronic tricks including the likes of ABS, dynamic brake control, cornering brake control, dynamic stability and traction control. But stability and traction aids only work where there is some traction, however small. And in places we had none.
The first sign of trouble came via auto gear changes. However delicately you modulate the throttle, on a hilly road the car will eventually change gear. This is a very good transmission but it didn't always choose the wisest moment; soon each step up or down was accompanied by a sphincter-tightening sideways skip from the rear that even the electronic nannies weren't quick enough to prevent in these conditions.
So we thanked God for the M3's excellent chassis balance, tapped it into manual mode, kept the revs low and swapped cogs as infrequently as possible and only when traction appeared assured. So far so good.
Then we sedately rounded an uphill bend to find a truck fishtailing in front of us.
Had you asked me if we could accelerate, I'd have said no. But stopping seemed unwise - we might never get going again - so we eased on the throttle and slowly hauled on by, blessing the extra-efficient traction control and the fact that despite its modern engineering, this car still lets the driver "feel" what's going on beneath the wheels.
Suffice it to say we made it to Austria safely, deeply impressed by how well such a vehicle could handle these conditions given a modern gearbox, a bit of common sense and plenty of electronic safety gizmos in the wings.
Sunny day racer? For sure - but drive to the conditions and the weather needn't hold you back.
BMW M3
We like
Blistering performance from a sufficiently subtle chassis to manage NZ's more ornery conditions
We don't like
That we can't afford one
Powertrain
4.0-litre V8, 309kW at 8300rpm/ 400Nm at 3900rpm, seven-speed double-clutch auto drives rear wheels
Performance
0-100km/h in 4.6 seconds, 11.2l/100km (claim)
Safety
ABS, dynamic brake control, cornering brake control, stability and traction control, six airbags
What it's got
Cruise control, adaptive headlights, park distance control, 18-inch alloys, leather seats, auto air, satnav, Harmon Kardon surround sound