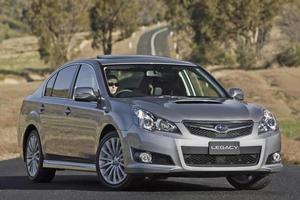 Subaru has pitched its latest Legacy GT against the Europeans. This hero car of the range is bigger and more luxurious than before, and enhanced by a suite of high-tech trickery that includes voice control of your Bluetooth phone and an integrated satellite navigation system.
What's new
More power - six per cent up to 195kW, with torque at 350Nm, spread over an increased range with a broader, flatter peak. It comes in lower too, the turbo spooling up to full boost a second faster than before.
As a result the five-speed auto hits 100km/h from rest in 6.2 seconds - 0.8 sooner than its predecessor and just ahead of the six-speed manual. That the engine's also less thirsty is a bonus.
Otherwise there's a more upmarket interior trim, 18-inch alloy spoked wheels, sports front bumper and grille, bonnet scoop and twin exhausts for sedan and wagon. They come in two spec levels, one at a nudge under 60grand and the Premium Spec B with its satnav and reversing camera at $65,990.
Subaru expects this to make up 80 per cent of sales, given the value of the added equipment and type of buyer, with about half those sales wagons.
The company line
Parent company Fuji Heavy Industries recognises its future rests outside Japan, and increasingly Subaru is developing its vehicles for global markets.
Meanwhile, Subaru NZ's research suggests many Kiwi owners also have a European car in the garage. Given the recession, it reckons this GT could cherry-pick more of those Euro buys.
What we say
The look is still an acquired taste and I can't get used to the "Dame Edna's sunglasses" tilt to the headlights. But Legacy is chiselled and characterful, and gives you a lot for the money, which could be all that matters to buyers.
I did like the tweak to SI-drive, which delivers sport, intelligent and sport-sharp response. The set-up default is now sport, while "intelligent" truly is now intelligent to use.
Yes, it delivers relaxed gear protocols, but floor the go-pedal and she'll drop down a cog and boogie. The original version meant a change of mode to up the pace for passing; now it's your foot's pressure that lifts the urge - or drops it back.
Sport sharp? As manic as ever, but the car truly can cope.
On the road
This GT is deeply impressive, and not just in terms of that punchy boxer engine.
The handling is delightful, too - compliant enough for comfort yet sufficiently sure-footed for a spirited play on the winding roads of our launch route, despite intermittent downpours of torrential rain.
The auto variant shone in these conditions, as we switched between manually changing via steering wheel-mounted paddles or letting the car do all the work. However, I still prefer the manual for its driver involvement.
Why you'll buy one
You like this much power and those gizmos at this price. That your car delivers more power, a faster 0-100km/h time and more integrated gizmos for considerably less money than your Audi A4 quattro-driving neighbour is a bonus.
Why you won't
Only its mother thinks it's handsome, and you're not its mother.