Four taken to hospital after out-of-control vehicle rolls off highway.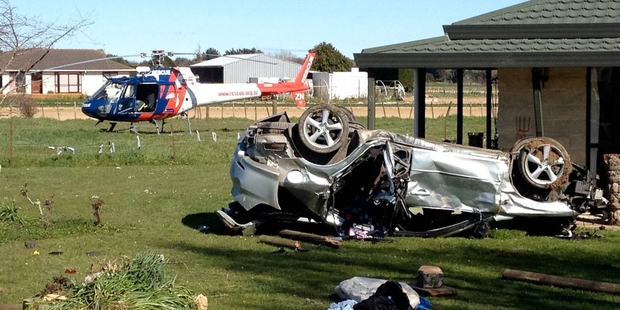 Peter Larmer's quiet Sunday at home on his Levin farm was shattered when a car crashed through two fences and a verandah post, and came to rest upside down on his lawn.
The out-of-control Mazda Atenza carrying a family of four left Bruce Rd and rolled several times at about 10am.
"It was right on the verandah, so pretty close without going through the glass doors," said Mr Larmer's wife, Leanne. "It smashed the verandah pole. There's glass and parts of car and fence everywhere."
Ambulance staff called in a rescue helicopter for the passengers, including a man, a woman, a 6-year-old and a baby.
Neighbour Janet Taylor, whose fence was damaged, said the baby looked to be about 1 year old and was in a car seat.
"I understand a passerby went in a window or the boot to rescue the children," she said.
"Somehow the parents crawled out of the car."
The adults and baby were taken to hospital by ambulance and the 6-year-old was taken to Wellington Hospital by the Palmerston North Rescue Helicopter.
The Serious Crash Unit remained at the scene until 3pm.
A blood sample was taken from the driver and alcohol was being considered a factor, said Wellington Police shift inspector Dave Rose.
Meanwhile, firefighters cut the roof from a car which crashed down a bank in South Taranaki yesterday morning.
Julian Burn said the Taranaki Rescue Helicopter was called at 9.26am to a boggy location off Te Roti Rd, north of Normanby. The car, driven by a 67-year-old woman, had gone 30m down a bank and landed on its wheels in a paddock.
Police said the driver received head, spine and rib injuries and was in a serious but stable condition.
The driver, described as alert, was cut out and treated before being flown to Taranaki Base Hospital.
SH3 was closed for a short time after the crash. Police were investigating the cause.
- APNZ