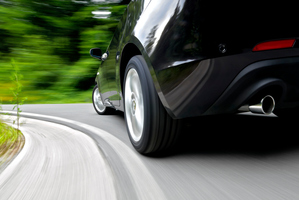 It was supposed to have been the best night of their lives.
But when Aucklander Ashley Gray was caught almost three times over the drink-drive limit on his wedding night, his new bride was left fuming in the front seat.
"It hasn't affected the marriage too much, but it wasn't ideal at the time," Gray, a self-employed builder, said yesterday from Thailand, where the couple are on a belated honeymoon.
Police have spoken of their disgust that the couple's bridal party let the groom get behind the wheel.
The 33-year-old has to be driven around worksites by an apprentice after being convicted in the Auckland District Court of drink-driving.
He was fined $950 and disqualified from driving for seven months.
Gray and his 32-year-old wife married on March 2 at The Lodge, overlooking Pauanui Beach, between Whangamata and Whitianga.
After the reception, they planned to walk a short distance to spend their first night together as a married couple.
But remembering their accommodation was up a steep gravel drive, Gray suggested they take the car instead.
"With the wife in the dress, shoes and all that sort of stuff, I pretty much convinced her we should drive," he said.
They were within sight of their accommodation, having travelled around 300m, when the police pulled them over.
As soon as Gray got out of the car, Constable Richard Jellyman of Tairua police could tell that he was intoxicated.
"He could hardly stand up, slurring his words. It should have been the night of their lives but he chose to drive in an absolutely paralytic condition," Mr Jellyman said.
Gray, of Mt Eden, blew over the limit and was charged with driving in the early hours of March 3 with excess blood alcohol.
Tests later returned a reading of 214 milligrams of alcohol per 100 millilitres of blood. The limit is 80mg.
While police blasted the irresponsible behaviour of the newlyweds, they were also disgusted that the bridal party let Gray get behind the wheel.
"People should be looking out for their friends. It was crazy stuff," Mr Jellyman said.
"What should have been a memorable day could have turned into a tragedy."
In 2011, Charles Walford, 40, and David Rotorangi, 47, died in a crash after drinking at a wedding reception in Waipukurau and ignoring pleas from relatives not to drive.
Yesterday, Gray took full responsibility. "It was totally my decision. There was a little bit [of grief] at the time with the wife but everyone has backed me up," he said.
"We had a bus jacked up for everybody else, and we actually drove right past it and carried on our merry way."
- APNZ