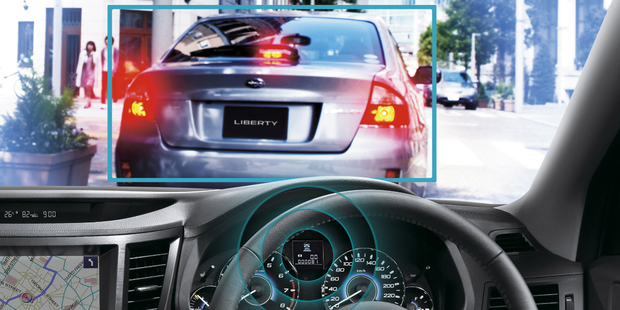 Subaru models equipped with EyeSight have a rather large pair of cameras hanging from the top of the windscreen. Makes it look a little bit like you have WALL-E along for the ride.
That's kind of appropriate. Pixar's fictional WALL-E robot acquired human characteristics; EyeSight's twin cameras attempt to emulate human vision by seeing in three dimensions. It recognises and assesses potential problems, providing seven active safety functions.
By monitoring the traffic ahead and recognising the position and speed of other vehicles on the road, EyeSight can help avoid a potential collision by assisting the driver to brake when needed, or take over braking automatically if it perceives the driver has not acted to avoid impending high-speed impact.
Eyesight also provides pre-collision throttle management around town. Imagine the classic scenario: the car in front at an intersection moves away but suddenly stops.
A nose-to-tail tap ensues, because you're busy looking for approaching cars from the side rather than the vehicle in front. EyeSight will watch that car for you and retard the throttle to prevent impact.
EyeSight provides adaptive cruise control up to 145km/h, automatically keeping your car the right distance from the vehicle in front. It can "lock on" to that vehicle and take you to a standstill in heavy traffic. When things start moving again, it will give you an audible prompt to re-engage the cruise control and keep driving.
The cameras also provide lane departure warning and vehicle sway warning. Both are useful on the motorway but not so good on backroads, because every time you drive close to a white line the warning sounds. For that reason, a roof-mounted pushbutton allows you to instantly switch off that part of the system.
True, none of the above features are unique to Subaru, but the way EyeSight works is. Similar systems from other makers use a single camera plus radar or laser. The theoretical advantages of the three-dimension EyeSight system include greater potential for object recognition (although it does not yet offer pedestrian recognition like Volvo's City Safety) and more reliable operation, because the cameras are tucked inside the cabin and wipers keep the field of vision clean.
Eyesight is currently fitted only to six-cylinder versions of the Legacy/Outback, as well as the high-performance Legacy 2.5 GT.