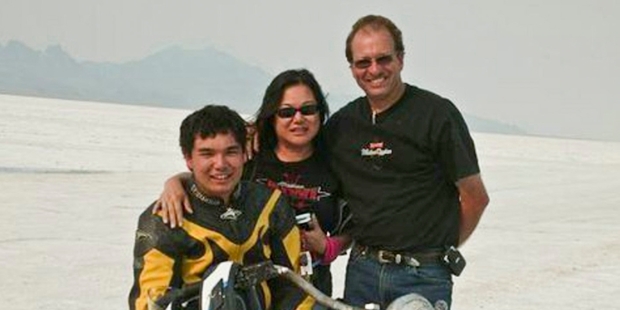 The only child of a New Zealander living in California has died in a motorcycle crash, about a kilometre away from the mechanics who were to have fixed the bike.
Ross "Kiwi" Tomas, 20, died when he lost control of his motorcycle during a turn and crashed into a palm tree on Wednesday evening, near his home in Riverside, about 100km east of Los Angeles.
The young man was the only child of New Zealand motorbike mechanic Mike Tomas, originally from Wellsford, and Japanese-American mum Carolyn.
He had set a record in 2009 as the youngest person to ride an Indian motorcycle at Bonneville Speedway Salt Flats in Utah, when he was 16.
Kiwi motorcycling legend Burt Munro set an under-1000cc world record at Bonneville in August 1967 on his home-modified 1920 Indian motorcycle.
Kevin Tomas, in Wellsford, said his brother Mike had been "broken" by the death of his only child.
"He's absolutely gutted. He's just a wreck," Kevin Tomas said of his brother. "He's a broken man. It's not good to lose any kid, but [Michael] was telling me that that's his dreams gone. All his dreams [for his family's future], they're gone now."
In a comment on a custom motorcycle blog, Ross Tomas' father said nothing could have prepared him "for such a tragedy".
"Carolyn and I are heartbroken. This is an extremely difficult thing to go through. It is the hardest thing as a parent, and the most dreaded thing, to bury and organise your kid's funeral. It's just not supposed to happen this way. We will miss Ross forever. He is our only child and we now and forever will have a huge void in our lives ... "
He explains in his post that his son was travelling at probably less than 50km/h on his way to have some "ill-handling" on his Honda's new wheels rectified at the dealer. "He was almost through the last corner where it was a straight shot to the dealer when something happened. I'm suspecting the bike wobbled ... and he went head-first into a tree."
The family in California have planned a "Motorcycle Funeral" along with a public memorial on Thursday.