Woman stranded on car feared dying of cold or being swept into torrent.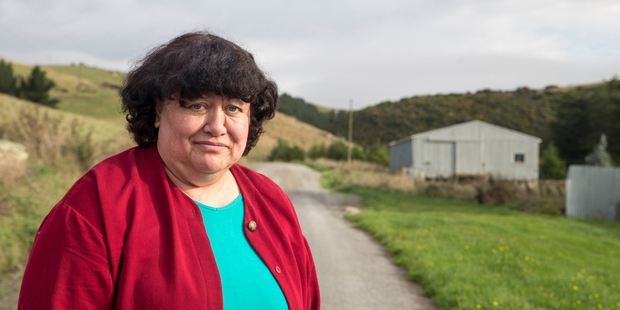 A woman has described her dramatic escape from her submerged car after it was swept off the road by raging floodwaters.
Pictures of her remarkable fight to survive until rescuers could fetch her with the arm of a digger went around the world yesterday.
Rhoda Davidson, 61, was driving to her job at Oamaru KFC around 11am on Friday when she misjudged the water crossing the road north of Five Forks bridge, North Otago.
Her car was swept down the Kakanui River until caught in a fence.
Local farmer Robert Borst came to the woman's rescue and the pair met yesterday when Davidson thanked him for his efforts.
Davidson said the scary part was the realisation her car's electric windows had stopped working because of the water.
She used a small fire extinguisher to smash out the driver's side window.
"I was pretty quick, I had to do it or else. That was the creepiest time.
"I just got straight out on to the driver's side real fast. I just thought if you keep calm and you don't panic, well it makes it a bit easier."
Stranded on the roof, Davidson said she considered swimming with the current downstream towards a tree.
"You've got to think ahead instead of thinking the worst."
A passerby who saw Davidson on the roof of her car called emergency services.
Two fire units from Weston and Oamaru, St John and farmer Borst went to help.
The torrent proved too tough for Borst's 4WD tractor to reach her. Power lines prevented a rescue chopper from winching her off, and logs in the water made it treacherous for jet boats.
"The helicopter wouldn't have had any show of getting me," Davidson said,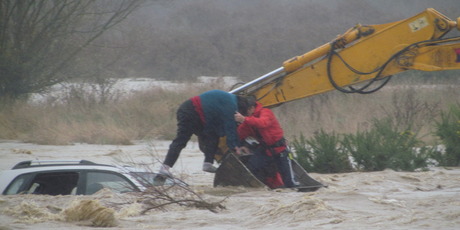 So Borst went home to pick up his 14-tonne digger. Driving back he inched out into the flood, with Sergeant Peter Muldrew in the digger's bucket, and they plucked her to safety.
"It was right at the maximum working reach and the water was in and around my feet," Borst said, "so yeah, probably not flash on the digger. But it was good to get her off the car. When I went back to get the digger, I half expected her to have been washed away. "It was one of those things, if you can help out the local community you do."
Davidson spent two hours huddled on the roof of her car, and said the cold was the worst part of the ordeal.
She was treated at Oamaru Hospital for hypothermia.
Davidson was planning to be back at work today.
- APNZ