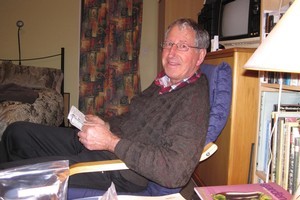 It was a simple spontaneous decision while the light was "photo perfect".
Halswell man Graham Radcliffe pulled the car over to take a quick photo while on his way to Greymouth.
It was something his wife, Khrys Radcliffe, had seen him do a thousand times before.
So when Mr Radcliffe, 66, got out of the car nine days ago to take pictures of the Taramakau Bridge, she never dreamed that this time it would cost him his life.
Mr Radcliffe was tragically struck by a passing car while he was taking the photos.
Speaking to the Star on what was to be their 38th wedding anniversary yesterday, Mrs Radcliffe said the crash "all happened so fast".
She was still sitting in the car and witnessed the horror impact.
Police have said it did not appear the driver was at fault.
But the Star understands that charges are still being considered as a possibility by police as part of their investigations into the crash.
Mr Radcliffe suffered massive head injuries.
He was taken by ambulance to Greymouth Hospital before being transferred by plane to Christchurch Hospital.
He died in Christchurch Hospital on Monday night.
Mrs Radcliffe, 60, said her last day with her husband was a "wonderful day with a tragic end."
They had been at a river nearby earlier that day having a picnic lunch.
Mr Radcliffe had wanted to take a photo of the work being done on the combined road and rail bridge for historic records.
She said her husband's death had shattered their dreams of retiring on the West Coast.
The couple planned to build on a section they had purchased in Hokitika.
"We just loved the West Coast, the relaxed lifestyle and the scenery because he's a photographer. He enjoyed the history of the West Coast," she said.
It had still not yet sunk in that her husband was gone.
"It's unbelievable. I'm still stunned. I can't comprehend it," she said.
"Anytime was too soon for him. He was just too precious."
She said her husband had spent his life behind the lens, and was particularly passionate about rail photography.
He had previously been employed as a photographer for the Royal New Zealand Air Force for 21 years.
The couple also had their own photography business, Bright Light Images.
The couple lived in Halswell and Mr Radcliffe was active in the Halswell Residents' Association. They had been regularly commuting between Christchurch and the West Coast.
His daughter Claire, 33, said it felt as if her father was simply out taking photos. Claire, who lives in Melbourne, said she was glad her father got to see his 6-week-old grandson Julian before he died.
- APN