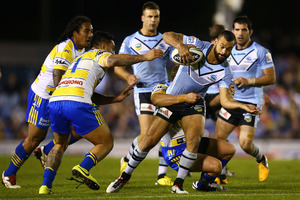 I used to play for Cronulla and I worry for their future if they are about to be hit with the same sorts of penalties as AFL club Essendon, who have also been caught up in the drugs saga across the Tasman.
The Sharks are already close to financial ruin and any significant fine handed down - Essendon were fined $2 million, among other penalties - would probably tip them over the edge.
The NRL probably wouldn't be unhappy about this. They would presumably step in and save the club but take them out of Sydney and relocate them somewhere like Perth or the Central Coast. The NRL have been looking to reduce the number of teams in Sydney for some time and expand somewhere else.
Despite my links with Cronulla, you have to move with the times. Even in my day there they were a club who were strapped for cash.
It is to their benefit, however, that the Asada investigation has dragged on because it's unlikely to be wrapped up before October.
Unlike Essendon, they will be free to play in the finals series.
I don't think they will be a big threat, despite their 32-22 win over the Roosters on Monday night, because the Roosters were probably due a loss and they're below the level of the top-four sides.
The race for the top eight is a tight and intriguing one but, unfortunately, it's once again events off the field that are generating the most attention.
Ben Barba's move to the Broncos and Blake Ferguson's actions in trying to get out of his Canberra contract don't sit well with me.
Players often have clauses in their contract that say they can leave for family reasons but sometimes this is taken advantage of. Players often move at a time when their value is high so they can make more money and use family as an escape clause.
The Broncos made no secret of the fact they were looking for a top-quality fullback and Barba fit the profile. It's too easy for Barba to move and it's the Bulldogs who are the big losers in this.
In the case of Ferguson, this is an opportune time for the NRL to take a strong stance. Yes, players should be helped through their issues to keep them in the game but players like Ferguson also need to be accountable for their actions.
Too often in the past, lesser players are made examples of and talented ones are given chance after chance.
Ferguson wanted out of Cronulla and ended up in Canberra. Now he wants out of Canberra so he can return to Sydney to be closer to friends and family and could end up back at Cronulla (if they survive) or the Bulldogs.
Ferguson has made a meal of things and going out drinking when injured is ludicrous these days.
Hit him in the pocket. I think he's breached his contract and once again brought the game into disrepute.
Make him do community work in his own time. Many players hate doing this but it's the wider community who will offer him help and he needs to give back through his time.
The Warriors will benefit from Ferguson's absence at Mt Smart tomorrow and I think they will beat a Raiders outfit going through tremendous upheaval.
Unfortunately, I still think the Warriors will miss out on the top eight and will rue some results earlier in the season - but at least they will definitely be around next season.