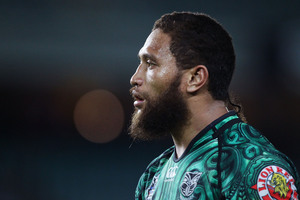 Suggestions of switch to forwards for Warriors wing would be wasting rare talentWherever you stand on Manu Vatuvei one thing is obvious: if he can cut down his error rate he'll be a much better player.
With all the talk about Vatuvei at the moment, I decided to have a look at how his statistics stack up against other wingers in the NRL.
Over his first 10 games this season, Roosters wing Sam Perrett carried the ball 158 times. He averaged 7.71m a carry and made 1.1 errors a game. Over the same span, Dragons wing Jason Nightingale carried the ball 150 times at 7.61m a carry and made just 0.4 errors a game. In his first 10 games Manu carried the ball 107 times, averaging 9.58m a carry. But he averaged 2.3 errors a game.
So it's pretty obvious where Manu's issues are. To me Nightingale is the premier wing in the game, a benchmark player. He's busy, he makes great yardage and he hardly ever makes a mistake.
In that sample we looked at he made 43 more carries than Manu but dropped the ball just four times, while Manu dropped the ball 23 times. Unfortunately, the majority of times opposition teams score off those Vatuvei errors.
If Manu can turn his game around so that he can get closer to Nightingale's level of consistency, he'll be a vastly better and more effective player.
There is a school of thought that Manu should switch to the forward pack but I don't agree. To me he's not that sort of athlete. He's an explosive player, all fast-twitch fibres.
He's capable of producing awesome bursts but I'm not convinced he could sustain it as a forward. In the middle of the park he would be up against guys who have been running up and back 10m and smashing people their whole lives. Manu would get worn out pretty quickly and run out of juice. He wouldn't be the explosive force he is playing on the wing.
I know Tony "T-Rex" Williams has made the switch to the pack and even more incredibly become an 80-minute player, but that guy is a freak. He seems to have a motor that suits the pace of the game in the forwards and Manly use him very cleverly.
They pick the moments to inject him into games where he can make a real impact. The Warriors play a different style and Manu would find it tough.
Monday's match against the Panthers is a must-win. The Panthers will be without three key players in Luke Lewis, Michael Jennings and, most importantly, damaging prop Tim Grant. If the Warriors can't win this game with those guys out they will need to have a hard look at themselves in the mirror.
The Panthers have been travelling well lately so it would be a great scalp to take at a crucial time of the season.
The Panthers seem to struggle to defend plays where teams come back on the angle and hit the first runner, so look for the Warriors to utilise that play. Kevin Locke returning from injury should be a major bonus for the Warriors. At this stage he's better than Glen Fisiiahi at getting to the ball quickly and he's capable of making big return metres.
Let's just hope he can get his hands on the ball a lot and get through the whole game - something the team's fullbacks have struggled to do this season.