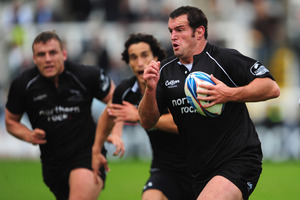 I think there can be a little too much breast-beating about clubs encouraging players to give international rugby a miss, or "imports" who take positions that would otherwise go to local players.
I'm referring to the news this week that three Fijian internationals were allegedly paid by their French club to stay away from the last World Cup and that Taranaki prop Michael Bent was fast-tracked into the Ireland squad for last night's test against the Springboks.
I understand the problem - the issue of the growth of Pacific Islands rugby is well-known and clearly clubs are not helping that by seeking to keep their players.
But hang on a moment - this is a matter of personal choice. It's not new at all. We've seen, over the years, plenty of players turn their back on international rugby for the money on offer in Europe.
What did Carl Hayman do? Didn't he decide to play in Europe, even though he knew it made him ineligible for All Black selection? What's Sonny Bill Williams doing right now? He has made himself unavailable for the All Blacks in favour of playing in Japan.
I can't see any difference.
It's a matter of being able to ply your trade when and where you want, providing you adhere to the rules and regulations.
All right, one of the Fijians concerned said he was injured and couldn't play for Fiji - and then played in a club match.
That is simply a case of the player having his cake and eating it too. He decided to stay in France but didn't want to rule himself out of future international selection.
Okay, maybe he shouldn't have done that but what we are talking about there is communication - he'd be better off saying he didn't want to be selected, making a couple of years of good coin in France and then put his hand up for selection again, when he's finished his club play. I bet he'd still be wanted.
It's a professional sport and, when one level of the sport blurs the line on matters like eligibility and imports, that obviously can lead to problems.
I mean, look at England. They have a bloke called Tuilagi running round in their backline and a Tongan prop called Mako Vunipola. Until recently, they had another back called Shontayne Hape. Fine old English names. Not.
It's difficult for the IRB because, on the one hand, they like the money that the clubs and owners bring to the game - but they don't like losing control to the club paymasters when it comes to the international game. But you can't have it both ways and it underlines the success the NZRU have had with their central contracts system.
It's all very well to say that the All Blacks and others should play more tests in Apia, Suva and Nuku'alofa but that doesn't solve the overseas players problem and it doesn't give the island unions as much money as they make by playing away tests, where they get a big slice of a much bigger gate than they could attract at home.
I wish I had an answer to the islands' dilemma - but I don't and nor does anyone else.
The import issue is a bit easier. For years, Ireland gave old warhorses like props John Hayes and Marcus Horan a trot because there was no one else. They solved the problem short-term by bringing in imports - like Auckland's John Afoa and some South Africans. Now Bent has gone into the international squad without even playing for his new club, Leinster.
It's a question of balance. Imports can be important and it gives players a chance to work overseas. But you must develop your own players and can't have too many imports or, as Ireland have discovered, it becomes a self-perpetuating thing.