Futuristic version of Good Life and Big Brother has major catch.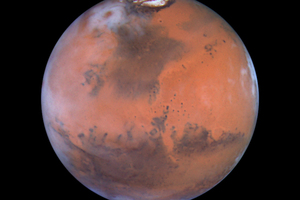 Well well ... my predictions are starting to come true. You know the one I had about going to Mars? Yeah well that one's about to happen. There's a Dutch organisation called Mars One and they've just announced their idea for galactic colonisation.
The company plans to send a group of explorers 90-odd million km into space so they can establish a settlement on the mighty red planet. These explorers will, in fact, be ordinary people who have been chosen for their extraordinary ways.
The entire project will be televised from the selection process to landing on Mars making this the biggest reality TV show ever created.
Apparently thousands of people have already applied and no doubt by the time you read this, that number would've doubled. But guess what? There's a catch (there's always a catch) and this is a big catch ... It's a one-way trip!
According to Mars One's co-founder Bas Lansdorp the astronauts will lose muscle and bone mass during their seven-month journey in space and it will be almost impossible to readjust back to Earth's much stronger gravity once they've spent time on Mars. This means they won't be coming home. Once on Mars the team will generate energy using solar panels, extract water from soil and grow their own food. The plan is to take all the necessary equipment so they can be self sufficient like a kind of futuristic version of The Good Life.
The whole plan excites me greatly. I hope by the time it all happens they have the technology to broadcast the goings-on on the ship. It'll be like a space version of Big Brother. We'll get to see all the dramas that'll happen on the journey and any relationship issues that unfold.
They might hold a space council every week. Maybe as viewers we'll get to vote them off one by one? Escape pods will detach from the undercarriage and jettison the unlucky ones out into the unknown ...
The mission, if it ever gets off the ground, will no doubt encounter problems. One of the major concerns during the journey is radiation exposure.
This can cause infertility which when you think about it could become a real issue for any group of settlers who are hoping to grow in numbers.
On the planet they will live in a series of domes and these will have to be kept covered by metres of soil to minimise the radiation. In the articles I've read so far though there has been no mention of extra-terrestrial threats. Surely anyone who is applying for a role on this expedition must have a little niggling thought in the back of their mind.
You know the thought ... that at some point in the journey they'll get attacked by hostile alien forces?
I just hope they've got a secret cupboard on the ship with super duper laser guns in it because everybody knows in space no one can hear you scream.