Don't be ridiculous, there's no cut-off age to letting loose.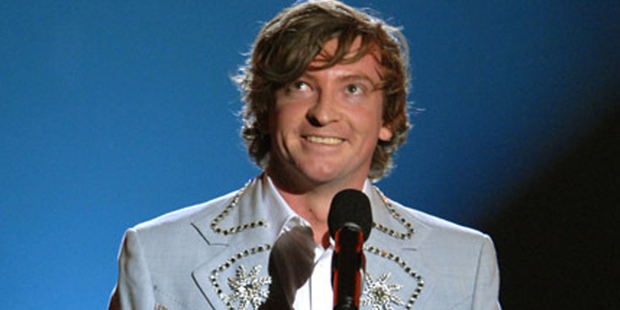 Last week, I hosted a quiz night. I know ... remember when I used to be in movies?
Oh well, it was for my kids' school, so I felt good about it. Besides, I got to wear my sparkling Vegas suit. It's a fine piece of dandy I bought in a thrift store in LA. It's baby blue in colour and bedazzled with diamond-like gems. Perfect for hosting a Ponsonby quiz night.
The school seems to be in pretty good shape. Unfortunately the same can't be said for my kids. I took them away from the country for three months touring the UK and they didn't get ill once, but after being deposited back in their local institutions, they were both as sick as dogs within a week.
Schools and daycares certainly are breeding grounds for viruses. Both my boys were hit with chesty coughs and conjunctivitis.
It's near impossible to deposit eye drops into a two-year-old's eyes. We just held him back and used the surprise technique. That works only once.
After that, we simply dropped the the liquid as close to the facial region as possible and then tipped him about until it rolled into the sockets. The poor little guy came into our bedroom at 3am with one of his eyes glued shut with goo.
"Look, Mummy and Daddy, I'm a pirate!"
Children are amazing. It doesn't matter how they're feeling, their glass is always half full. Half full of chocolate milk with sprinkles on top. I hope I never lose my child-like sensibilities.
Being an adult weighs you down, man. I think it's important for us all to let loose once in a while and do something youthful. That's why I still skateboard to work. It's invigorating to have the wind in your hair as you whizz past the suits holding onto their coffees. Sure, now and then I get pointed at, even laughed at. But hey, I'm used to that.
I often wonder, what is the cut-off age for youthful fun? I see lots of men in their 30s skating on longboards. My right-hand man "Buttons" even bought a special pushing pole so he could grace his way along the paths like a punter in Venice. Was he ridiculed? Of course, but that has nothing to do with his pole.
I think it comes down to "coolness levels". It's okay for a man in his late 50s to surf the ocean waves because it's rad. But when you see a man in his 40s riding a razor scooter along Ponsonby Rd it just seems a little sad.
I say "to hell with it".
Ride, skate and surf to your heart's content. If you're still breathing then you should still be having fun. Just choose your activity wisely. On a ridicule scale of 1 to 10, cycling is a 1 but unicycling is a solid 8.5 unless you're wearing a sparkling Vegas suit, in which case it's a 10.