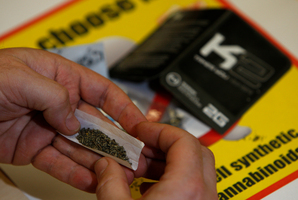 Residents and shopkeepers in Greenmeadows, Hawkes Bay, have banded together to swiftly shut down a new store selling synthetic cannabis.
The recently closed CC Discount store on Gloucester St was reported to be selling K2 when it opened on Tuesday last week.
Rainbow Fish and Supply owner Greg Anderson said he was curious to see what the shop was selling when it first opened up across the road.
"I didn't know what it was, it just had CC Discount on the front and a R18 sign - so I went in to investigate.
"I asked the guy in there 'What are you selling?' and he said 'cigarettes'. I said 'yeah but what else?' and he pulled out a packet of K2 from under the counter."
He phoned police to notify them of the new store selling K2.
"I don't want that s**t around my shop, kids smoking that s**t and breaking windows," he said.
The Psychoactive Substances Act which became law on July 18, states any products which have been legally available for sale during the past six months must begin their approval and testing process or they will become illegal.
If they do begin this process they can still be sold legally, as is the case with K2. However, the authority has the power to remove them from the market at any stage if they are considered too high risk.
Local business owner Catherine Hawkins said she was first alerted to the shop last Tuesday.
She said the space had been empty for quite some time before it popped up.
"It went in really quickly. I went down to have a look and saw the R18 sign and lighters and filters all over the counter."
Mrs Hawkins said she knew straight away it was not the kind of business welcome in Green meadows. She contacted local MP Chris Tremain and the council, before getting in touch with the landlord.
She also set up a Facebook page in protest against the shop.
Last Wednesday night Mrs Hawkins received an email from a representative of the landlord to say they were working on moving out the tenant.
"He'd become aware of the Facebook page and the potential backlash. The tenant had misled him about the nature of the store," saying it would be a tobacconist." The same representative, who did not wish to be named, told Hawke's Bay Today the minute they found out what the store was selling they moved out the tenant, who had not yet signed a lease for the space.
Napier Community Police Sergeant Nigel Hurley was alerted to the store by members of the community early last week.
"The store had been closed by the community before I even got a chance to go and speak to them."
For more articles from this region, go to Hawkes Bay Today