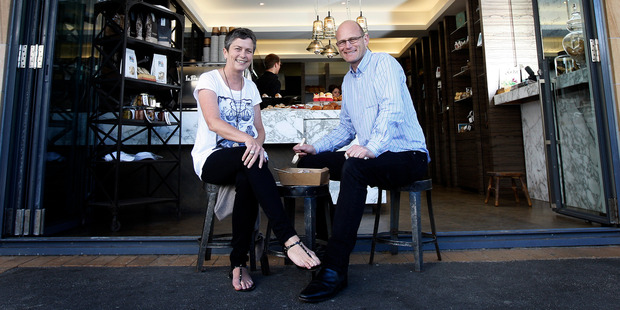 Scott Brown from the Hip Group, owners of The Café, The Store and The Bar at Kohimarama, Takapuna Beach Cafe and Store, Richmond Road Cafe and Rosehip Café, St Heliers Bay Bistro and eateries in Britomart including a casual Italian bistro style all-day eatery, Ortolana and dessert restaurant-wine bar, Milse.
Do you think people know that the Hip Group is behind all your cafes? Is it important?
Everything we do is focused on creating very special customer experiences so if a customer knows that the great experience they have in their local café will be replicated by going to another Hip Group café or restaurant, then yes, it's important. But that's the only reason.
Do you have a central kitchen for all your cafes - a perk of achieving some critical mass?
We are extremely passionate about the concept of provenance - the origin of things. So to make sure our customers are always enjoying the very best food made by the highest quality local ingredients, we do have our own central bakery and pastry team. We also have our own farm so can supply a lot of our own fresh produce as well and we'll soon be producing and supplying our own butchery, milk and dairy products also.
Do you use social media to talk to your customers?
Like any business, our success is based on ability to make one-time customers more regular and to turn them into "raving fans" and that can be achieved in many ways. The most important is the experience they have when they are in one of our cafes but the other critical component is how we involve our customers in our story. We are currently working on ideas to dramatically upscale our use of social media because it's such a powerful tool for storytelling and customer engagement.
Why are you expanding so ambitiously?
We really believe that Auckland can become an even better place to eat, drink and live so we are doing our bit to make sure that the eating out experience is absolutely world class. We just want more people to have a wonderful experience when they go to a café or restaurant. Also, the expansion is a key way for us to provide career and personal growth for our employees.
What is your reading of the Auckland restaurant scene at the moment?
Right now, we have a perfect storm created by the economy improving and interest rates being low and this partly explains why there are so many new restaurants opening in Auckland (some restaurateurs are being offered excellent deals by property owner's which makes opening new sites very attractive as well.) It is however going to be tough for some restaurants and cafes in the next 18 months because we risk over-supply. And longer term, all of us will have to keep producing something new and innovative to keep customers loyal and employees fully engaged.
What challenges are there in hiring staff and keeping them?
Working in hospitality is growing in popularity thanks to programmes like Master Chef and food and wine tourism becoming more popular. We offer our staff an incentives and bonus programme and further down the line, senior staff, who have proven that they can improve net profit of the business, can be offered shareholdings or some skin in the game if we think they are financially ready.
What would your top tip be to new cafe owners/restaurateurs starting out?
My advice would be to focus on the now - that great cup of coffee, that great glass of wine, great customer interaction. What is happening when the rubber hits the road?


Next week: Note that I'm writing this on the morning of race 12 and 13 of the America's Cup and we have just lost both of them but I am confident we will win the next race or the one after that so I am planning to look at the NZ marine industry next week and some of the small businesses who will benefit from our Americas Cup win. Tell us what your hopes are for new business after this victory and what it has done to the reputation of the marine industry here.