Address:
1 Solent St, Mechanics Bay
Phone:
(09) 309 9514
Rating out of 10:
Food: 7, Service: 7, Value: 7, Ambience: 8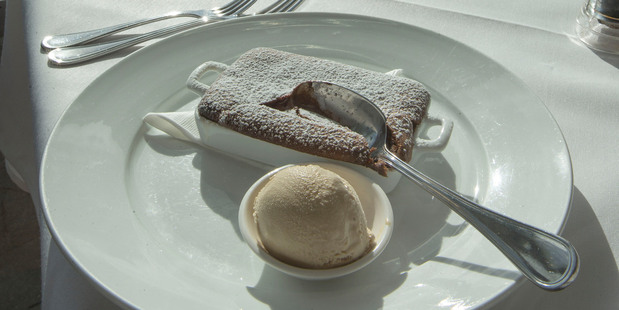 Red sails in the Auckland sunset are all very well, and I've enjoyed them as an eating backdrop many times, but for me seeing a working port in action beats yachts every time.
Those magnificent machines scurrying about in the glare of spotlights, and the caravans of big trucks heading off to God knows where are the stuff of romance.
In this age, when virtual digital transactions dominate all human endeavour, it is a joy to see engineering monsters of heroic proportions, made of real steel, perform elaborate dances. Add helicopters making the building throb as they ascend into the night sky on mysterious missions and you've the setting that is one of the Mikano's major assets.

This restaurant's approach to food has a certain appropriate nature - solid and matter of fact if, perhaps, a little old-fashioned. It has succeeded in drawing customers in large numbers with this act for a decade, so it's certainly doing something right and, on our midweek evening visit, business was brisk.
Our reception was similarly businesslike and we were whisked to a table where our waitress disarmingly announced she was new to the establishment and, indeed, to her service career, but she tried hard, almost too hard, and had obviously been well trained, seeking advice when questioned about a particular wine on the list.
The food choices are not huge but there is enough variety in the line-up to suit most tastes, particularly if you're partial to seafood.
The manuka-smoked trevally and kahawai was listed as an entree but I was advised against tackling it single-handedly as it apparently comes in a substantial helping.
But the garlic prawns were good, delivered piping hot and with a conventional, but lively, accompaniment of chilli, tomato and parsley. Our other first course of yellowfin sashimi was similarly respectable; generously sliced fresh fish with a citrus-strong accompaniment of seaweed, cucumber salad and ponzu.
For no good reason we had decided before we arrived that it was time one of us had lamb as a main course but the option was limited to shank and pork was represented solely by belly.
The pasta dish of slow-cooked duck ravioli with pancetta, tomato and sage butter came into the frame but the lamb shank won the selection and turned out to be another of the decent, orthodox school with a well-judged red wine risotto, cavolo nero and roasted garlic.
Mikano offers what it calls a "four fish four ways" main dish with four species offered cooked in a choice of four treatments. I took the market fish option, which was hapuku, and had it roasted with what were described as Indian spices, cauliflower, yoghurt and mint. The fish was just cooked adequately but the accompaniments lacked conviction, as if they had been prepared for customers who order hot dishes without really liking spice.
Of the dessert selections my twice-baked chocolate souffle was probably the pick, light and with a well-flavoured hot interior, but the Pedro Ximenez parfait was uncomfortably reminiscent of supermarket Arctic Roll with sponge that was disappointingly solid.
The wine list is serviceable, almost entirely restricted to New Zealand wines, but with enough choice to give you room to manoeuvre and well suited to the rest of the menu.
Our evening had been of that dependable, familiar nature that has its own appeal and we certainly didn't think we had wasted our time. But the real "wow" factor came from the setting.
Our meal: $230 for two first courses, two mains and two desserts, with five glasses of wine.
Wine: A reliable list with a decent selection by the glass. The Alpha Domus Navigator from Hawkes Bay was an appealing blend of merlot, cabernet franc, cabernet sauvignon and malbec while the Nevis Bluff Central Otago pinot noir and the Dog Point Marlborough sauvignon blanc showed their usual reliable qualities.
Verdict: A well-tried and trusted formula, particularly good for the larger group but appealing for the romantic couple who want to look at a great Auckland view.