Address:
Cnr Remuera Rd and Nuffield St, Newmarket
Phone:
(09) 523 0293
Rating out of 10:
Food: 8, Service: 8, Value: 7, Ambience: 7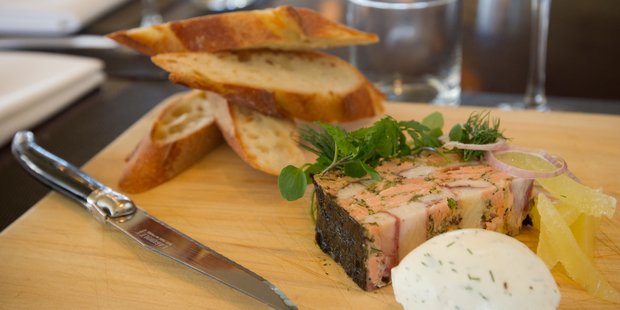 Here's a hint. Do not go out for an eight-course lunch and then expect to do justice to a full evening meal. Fortunately Ile de France had a solution to that problem.
The bistro is located in the old Auckland Power Board building in Newmarket, a space that might have had trouble lending itself to the requirements of a restaurant, but didn't.
We found the semi-distressed furniture and fittings suited the room and lent it a comfortable, homely air.
We were greeted promptly and seated by the windows, although most of the tables were ours for the choosing as patronage was light this midweek evening. Water (tap, as requested) and menus arrived without delay; and wine and beer quickly followed.
After such a substantial lunch, a shared entree seemed wise.
The planche du terroir held a satisfyingly chunky pork terrine, a very smooth and delicious duck pate, a pot of shelled snails and mushrooms in a dark and tasty sauce (although it was a little difficult to differentiate the two main ingredients), Serrano
ham, and plenty of baguette with which to mop it all up.
The sancerre was sufficiently robust to match the full flavours, and Bill's La Rousse beer (one bottle lasted the whole meal) sorted him out nicely.
He had not had the pleasure of the large lunch, so was in the mood for a main course. Ile de France chef Gilles Papst comes from the beautiful Alsace region in northeastern France, and his menu reflects his origins.
Bill was tempted briefly by the choucroute until he realised it was cabbage, and went instead for lamb.
The generous portion of rump was grilled to pink and tender perfection, and accompanied by a good selection of young vegetables, garlic jus and a white bean cassolette.
I was still on the light side of the menu, and the salmon and smoked eel terrine appealed. Salmon is not usually my first choice of fish but this was excellent and the smoked eel a delight, with dill and lemon creme fraiche on the side.
Bill felt like having something sweet to finish, and marinated strawberries with Breton biscuit and salted butter caramel sauce suited him well.
A glass of Calvados each (it is a French restaurant, after all) and we were done.
Auckland has its share of French eating places, of variable quality. Ile de France may count itself near the top of the range.