Herald on Sunday Rating: 1/5
Address: Heritage Auckland, Hobson St
Ph: (09) 979 7434
Website: heritagehotels.co.nz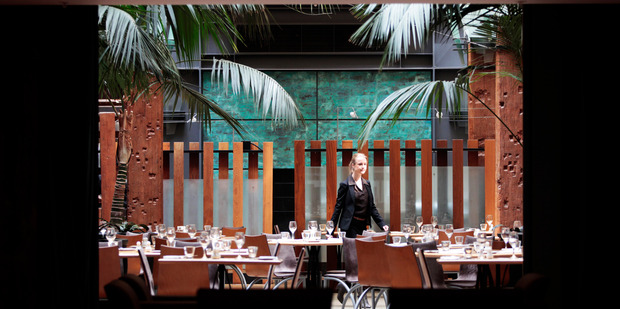 My mate Tom will forgive me for saying that he is not a man of sanguine disposition. So I was impressed that he managed to salvage something from the evening when we took him out to dinner.
"At least you got a good park," he said, as the Professor popped the lock on the Corolla. It was true. Arriving after 6, we'd found a spot in a loading zone on the corner of Wyndham St, diagonally opposite the Heritage. Little did we know that this was to be the high point of the evening.
We were at Hectors because it was offering a vegan menu. In an industry that usually treats vegetarians offhandedly, this is rare and I decided to treat Tom, an old tennis partner whose scything backhand has helped me out of many a tight spot over the years.
Tom, a vegetarian by inclination who sometimes, though rarely, eats fish, is gluten-intolerant. My phone call to confirm that Hectors could cater to his needs threw the staff into confusion, but I finally established that some dishes were gluten-free or could be made so by the withholding or substitution of one or two ingredients.
So I called Tom to invite him and it is a testament to his forgiving nature that he is still speaking to me. But I am getting ahead of myself.
Hectors, which should have an apostrophe but does not, is in the cavernous bowels of the Heritage Hotel. Room windows peer down on a gloomy interior courtyard with a glass ceiling above. Even with those indoor palm trees that are probably real but manage to look artificial it has all the atmosphere and romance of an airport gate lounge.
They say it's named in honour of a parrot though Hector was actually an Australian sulphur-crested cockatoo who presided in the rooftop kids' playground back in the days when the building was the fabled Farmers, a mail-order business that grew to become Auckland's original department store. Hector was allegedly 131 years old when he fell off his perch in 1977, which would have made him almost twice as old as any of his species known to science. For fear of destroying any childhood dreams, I'll say no more than that.
As a kid, I was terrified of Hector who had, as I remember, a baleful glare and a taste for juvenile fingertips. But the anguish he caused was nothing compared to the distress we endured dining at his namesake restaurant.
In the interests of fairness, I note that executive chef Jinu Abraham won the inaugural New Zealand Vegetarian Dish Challenge in July with a dish of baby vegetables with olive, celeriac, candied walnut and "macadamia cheese". I did not have the good fortune to try this award-winning concoction since, barely two months later, it is not on the menu.
In the spirit of the evening, we concentrated on the vegan options, which comprised four entrees and five mains. I was soon to wish I'd ordered the garlic prawns and the steak.
A Caesar salad (slightly cheating, I know but I told them to hold the chicken) was blander than bad airline food. A curry laksa was utterly devoid of Asian kick and contained large globs of spinach that were hard to manhandle. An eggplant and macadamia puree came as big, grim, grey balls of puree, which reminded me of the unidentifiable substances they served us at boarding school.
Mains were even worse: a "grilled vegetable and mozzarella pizza" seemed like a bad joke: the base was leathery enough to do service as a boot-sole; the thin sprinkling of par-grilled vegetables would have disgraced Pizza Hut; I detected no cheese; it was small; it cost $22.
The piece de resistance was a dish of roasted mushrooms and polenta: the latter were tired chips from which the grease could be wrung and the mushrooms seemed to have been poached in oil.
Of a dessert of spiced coconut and treacle custard, the kindest that might be said is that it bore no trace of spice or coconut. I suspect a plumber sealing leaky pipe joints could find a use for it, but we could not.
I assume that Hectors aims to cater mainly to house guests and it may be that its standard fare is better than this. But no vegetarian of any discernment would go anywhere near the place.
Need to know
Value: $$$
$ = $20-$40; $$ = 40-60; $$$ = $60+.
(Price guide reflects three courses for one person without drinks.)
Verdict
Virtually inedible food in a cheerless lobby.