Herald on Sunday Rating: 2.5/5
Address: 32 Anzac St, Takapuna
Ph: (09) 486 2249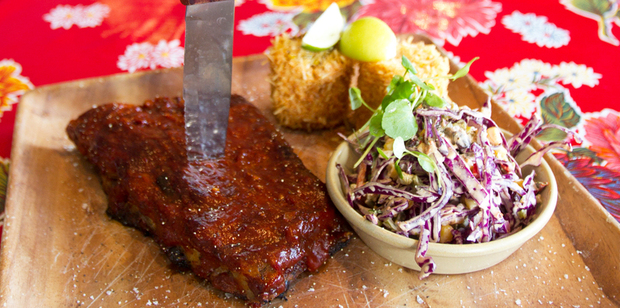 The disinclination to proofread menus written in English being so endemic in the restaurant trade, it should hardly be surprising when they treat another language with indifference.
Throwing foreign words around is intended to create an exotic impression. Hence an Auckland cafe called "Uno Momento" and a wine shop, now rebranded, called "La Vino"; neither turn of phrase exists in any human language, but what the hell. It sounds foreign, eh? That's all that matters.
British film-maker Mike Leigh gently satirised the habit when he had Timothy Spall's character Aubrey in Life is Sweet open a nouvelle cuisine restaurant called The Regret Rien (sample dish: saveloy on a bed of lychees; it did not prosper).
I can never resist the inference that if you have no respect for the language of the country whose food you're making, you may have no respect for the food.
When I saw the new name of Marvel Grill in Takapuna after it morphed into a Mexican restaurant, I emitted something between a chuckle and a sob. Chihuahua Mexicana Cocina Y Barra, it is called.
Now, I will let Chihuahua go, since it's your own business what you call your restaurant, though I question the wisdom of naming it after a drug-ridden border state of Mexico that has the highest homicide rate in the Western Hemisphere.
As to the rest, my passable command of Spanish and the assistance of Chino, my daughter's Chilean boyfriend, place me on safer ground: to explain why "cocina" is the wrong word would take too long, but it should be "cocina Mexicana" (adjective after noun) and "barra" really means an iron bar, although it can be applied to the actual counter against which a drinker leans. The Spanish word for bar is "bar".
I must not be the only person to remark on this, since Chihuahua seems to be rebranding itself barely weeks after opening. The menu now says it's a Mexi Grill; the bill simply "Chihuahua". But the name, presumably composed after some uneducated use of Google Translate, is out in cyberspace and it will take years to disappear.
It may be that the establishment (whose menu includes the misspelled chiptole, chile, guacmole and zuchinni) will disappear first, of course; in my view it deserves to (because of the food, not the spelling). But it was packed the Friday we went and no one ever went broke underestimating the taste of people who live north of the bridge. Suffice it to say that there is no evidence to be found here of respect for Mexican (or Tex-Mex) food any more than for the Spanish language.
We ordered some dips and starters, including a guacamole so bland it could probably have iced a banana cake unnoticed. A salsa of corn and black beans was routine, although some rather nice beef empanadas in the Argentinian style, fatty and baked, bore a pleasing trace of cinnamon. Some distressingly soggy potato skins made me long for the ones at Depot.
One of our party wondered whether the nachos (billed only in a beef version, though they are classically made with beans) might be prepared for a vegetarian and was rather brusquely told they would leave out the meat. When she suggested some alternatives (there were vegetarian tacos, after all) the reply was that "we don't allow substitutions, but I'll see what I can do". In the event, the kitchen did a good job with zucchini and eggplant, but the waiter's approach seemed unnecessarily disobliging.
As to the rest, little of what I tried impressed, largely because it was devoid of any of the fresh, head-clearing zing that characterises the best Mexican food. Grilled corn rolled in parmesan and chilli was inventive but classics like burritos, tacos (the latter soft-shelled) were prepared with little flair, although at $10.50 and $6 respectively, they are well-priced.
Meanwhile the service was vague and chaotic: a table order of drinks arrived in dribs and drabs over five minutes. Another lot was forgotten and had to be re-ordered (although they waived the charge).
Mexican joints have proliferated in Auckland in the past few years. Chihuahua needs to lift its game if it wants to stand out in a crowded market.
Verdict
Insubstantial and unremarkable food, vague and chaotic service.