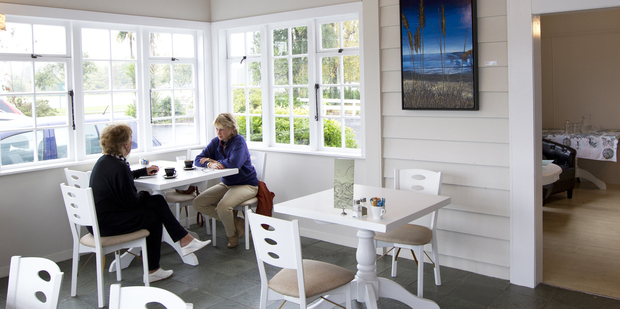 We came here because its previous incarnation as restaurant Collins House was a fine one, and we like keeping an eye on what's new in our neighbouring Greenhithe village.
Parking was plentiful, both in the carpark and out on the village's main street.
We walked in and immediately thought our first decision was a tough one - to sit in the big garden, soaking up the last of the autumn sun, or in the light and airy side room of the historic old house. We stayed in.
The most unusual thing on the menu was banana, coconut and pistachio bread with fresh lemon curd and cream cheese ($8.50).
We ordered from the all-day brunch menu - dukkah-crusted portabello mushrooms with baby vine tomatoes, melting brie and balsamic reduction ($17), and the pumpkin and feta fritters with bacon and smoked paprika sour cream ($16.50), and a side order of potato rosti ($4). The mushrooms looked divine, but were dry and chewy; the fritters were generous, but not crispy.
The service was very friendly and super-fast.
The coffee was okay, the long black - Altura - was very long and forgettable and the chai was neither spicy nor sweet, somewhere blandly in between.
We recommend if you come here take a platter out under the gazebo, and wander through the rooms of the old house where the walls display the work of Greenhithe artists.
Overall we thought it's a charming village cafe, with its colonial setting and green space for kids to play, but the artistic food didn't quite live up to its looks.