Herald Rating: 4/5
Address: 96 Mokoia Road, Birkenhead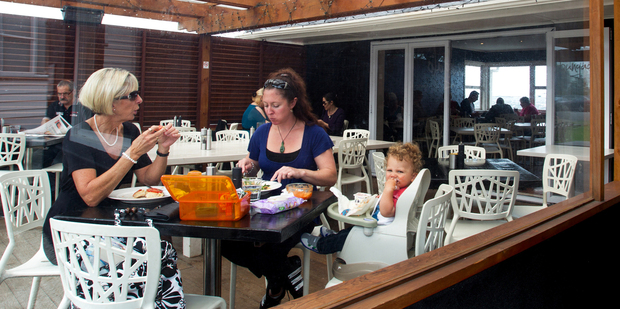 We came here because we wanted to walk the puppy. She made herself at home next to the dog bowl at one of the tables under the awning.
Parking was available for a decent number of cars in the cafe's own carpark.
We walked in and immediately thought that if we'd come without Willow we would have nabbed one of the indoor tables overlooking the harbour.
The most unusual thing on the menu was the fritz: a vege fritter topped with spinach, two poached eggs, crispy bacon and garlic aioli ($19.50).
We ordered the fritz, a good and tasty choice as I couldn't decide between the stack (corn fritters) or eggs on toast; and the Bungalo: bacon (or pastrami), roasted tomatoes, hash cake, field mushrooms, sausage and two free-range eggs on toast ($19.50), which was cooked and presented well, without fuss. The only disappointment was the comically named hash cake arrived as roast potatoes.
The service was friendly and attentive, as were our fellow customers. One man brought us water; a woman offered us the corner table for the dog.
The coffee was Atomic, although my soy flat white wasn't quite strong enough to live up to the brand name.
We recommend if you come here bring your mates. There's a table for eight under the sun-dappled awning.
Overall we thought Bungalo does classic brunch food with a twist, and gets most things right in pleasant surroundings.