Find more restaurant reviews with our Google map
Address: 90 Dominion Rd, Balmoral
Ph: (09) 638 9516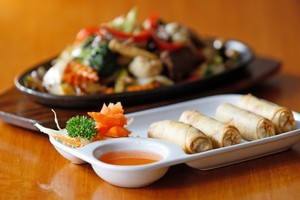 Even though Tusk is what might be called our local Thai restaurant, it had been an age since our last (and first) visit, and there was a reason for this lag. On that occasion, we had been underwhelmed in almost every respect, except perhaps the décor, so we were in no particular rush to return. However, recent reports indicated that things had taken a turn for the better, so off we went.
Tusk takes a different approach décor-wise. The plain walls are decorated with wavy plaques bearing what one assumes are Thai lettering, and the wait staff are smartly dressed in black and white.
This, however, is as far as the difference goes. The menu is bog-standard and the food ditto. Jill's appetiser of toong thong (gold bags) was unavailable this night, so she settled on curry puffs instead, and was pleased enough with the fat little offerings.
Ken's fish cakes were a bit rubbery, as they so often are (for no good reason that I can discover) but the sweet and sour dipping sauce helped them down.
Bill hedged his bets by going for a mixed plate, which held a chicken satay, a deep fried spring roll, a prawn and pork toast triangle and a corn cake, with a selection of dipping sauces. All fine if unspectacular.
The standout appetiser was my fresh spring rolls, stuffed full of crisp vegetables, plenty of mint, prawn meat and a very good sauce. They were the highlight of my meal, as it turned out.
My ped pad kra-pao (roast duck stir-fried with chili, bamboo shoots and basil) was no more than adequately flavoured, and light on the chilli.
Jill was bemused by the idea of salmon in a red curry sauce, but swapped the fish for prawns and was satisfied.
Ken forewent his usual choice of flaming chicken in favour of prawns with basil and chilli, and thought that the change of plan was a good one - plenty of prawns in a well-spiced sauce.
Bill, always one for the flamboyant gesture, had sizzling beef, and it was - generous in both proportion and heat.
His side of roti rather overloaded the table, and over went a bottle of beer. It was righted quickly enough, although we had to ask for extra napkins to mop up the spill.
And although the prices are already a little on the high side, the rice served with our mains is charged as an extra on the bill.
Thai puddings are often unimpressive, unless it's just fresh fruit, and so it turned out at Tusk. Bill's chunks of fried banana were fine, and the icecream was excellent, but the Thai rice pudding shared by Ken and Jill was quite ordinary.
Tusk may be a decent enough introduction to Thai food, but anyone familiar with the authentic cuisine may care to look further afield.
Rating out of 10
Food: 6
Service: 7
Value: 6
Ambience: 7
Our meal: $283 for four starters, four mains, two desserts, two bottles of wine and three beers.
Wine list: Adequate rather than extensive, as described on Tusk's website.
Verdict: Tusk has been in business for 14 years so any wrinkles should be well ironed out by now. Sadly, the service lacks cohesion, and the food is not the best in town. It's 10 years or so since we last visited, and will likely be the same time again before we return.