Find more restaurant reviews with our Google map
Herald on Sunday Rating: 3.5/5
Address: Hilton Hotel, Princes Wharf
Ph: (09) 978 2020
Website: fishrestaurant.co.nz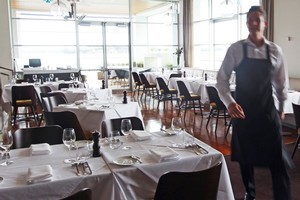 The thing about the Nitro Chocolate Mousse at Fish is that the chef makes it at your tableside. He fills a ball of mousse with mango (or, if you prefer, caramel) syrup, "cooks" it in a bath of liquid nitrogen (-196C), gathers it with a dessertspoon, hoists it, with great aplomb, from the pool and drops it on the floor where it lands with a softly explosive plop.
Well, strictly speaking, dropping it on the floor is not part of the recipe. But it's pretty entertaining. Three kids at the next table had been entranced by the act up to that point and were positively agog at the coup de grace.
"I'll have to make another one," the chef said, in a commendably unperturbed tone, and we all watched very closely, wondering why he didn't use a big, slotted spoon, and willing it to reach the plate.
I couldn't help feeling that the result wasn't worth all the bother. The Nitro Chocolate Mousse is more a theatrical than a gastronomic event, really: the mousse is fatty and characterless and the plating consists of an artistic smear of chocolate (so hard, it calls for mining expertise if you want to get any) and a fan of sliced pear.
It sounded much better than it was.
As it transpired, that was something of a theme of the evening at Fish, which has replaced White in the splendid prow of the Hilton Hotel on Princes Wharf.
Two dishes were much better on the menu than on the plate and only the view and the excellent service - relaxed but not gratingly familiar, and a world apart from the rather stuffy style at White - made the evening memorable.
Fish has newly come under the aegis of the Nourish Group (Euro and Jervois Steak House, among others) and chef Shane Yardley, a 16-year veteran of Euro, is in charge. The menu is certainly suggestive of bold imagination (hot oyster soup with leek and parsnip; scampi with celery sorbet), but not of the kind that mocks tradition (that fried whitebait looked divine).
There's a choice for the seafood-averse (an eye fillet and, on special the night we were there, a piece of a Clevedon buffalo whose mozzarella days were presumably behind her). But Fish is a restaurant true to its name and we chose accordingly.
I was attracted to an octopus "capriccio" (since the word means "whim" and I had never met a whimsical octopus) until the waitress confessed it was meant to be carpaccio and a corrected menu was imminent.
But if they have trouble spelling the dish, they have certainly mastered its preparation: the thin slices of meat were perfectly paired with a cucumber sorbet.
Less impressive was the Professor's choice of tempura paua.
The idea sounds terrific and the tasty dark flesh was tender while remaining agreeably chewy, if that's not a contradiction in terms. But the batter was greasy, lacking the distinctive dry lightness of classic tempura, and the overall impression was fish-and-chip-shop bland.
Much more successful was a main of a whole grilled flounder - an enormous fish of glisteningly moist flesh, surrounded by four fat prawns and topped with Cafe de Paris butter, that heavenly, herb-rich blob you'll find on a steak in a classic Parisian bistro. It was a typical Yardley touch: deploying techniques familiar from meat cookery in the preparation of fish.
It was a perfect match to the season - it was one of those chilly spring evenings we had in mid-November - and the same meaty style was evident in my "breaded" snapper. This was not breadcrumbed as I'd expected, but covered with a delicate bread crust to make a sort of fish pie. This was fine dining as comfort food, rich and tasty like the flounder - but, unlike the flounder, egregiously overcooked.
So it was a meal like the curate's egg, really: parts of it were excellent. But with the chef's pedigree and at those prices (entrées in the high 20s, mains nudging $40 on average) a diner might be inclined to expect more than that.
Need to know
Value: $$$
$ = $20-$40; $$ = 40-60; $$$ = $60+.
(Price guide reflects three courses for one person without drinks.)
Also try
Princes Wharf is home to some of the most overrated dining in town. Euro is superb. Kermadec, Soul, The Food Store and Harbourside are the pick of the Viaduct.