Herald Rating: 4/5
Address: 2 Marine Parade, Mt Maunganui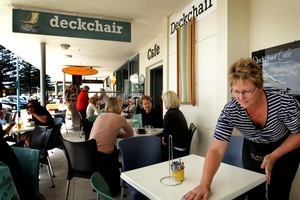 We came here because the bridesmaids were visiting the bride-to-be and it was a fine day for brunching by the sea.
Parking was a matter of circling the block twice in the hope that someone would pull out. Eventually we found a park a short stroll from the cafe.
We walked in and immediately thought Deckchair was well set-out for its summery surrounds.
The most unusual thing on the menu was the Italian: avocado, tomatoes, haloumi and basil on toast, drizzled with red pepper oil, pepper and sea salt ($15).
We ordered the Italian, the Big Breakfast of bacon, eggs, sausage, mushrooms, hash browns and toast ($19.50), which packed a flavour punch without the grease, and the delicious Green Eggs and Ham - crumpets with ham, poached eggs and pesto hollandaise ($17). At first I wasn't convinced by the crumpet concept but I appreciated the lighter base.
The meals were generous, beautifully presented and each came with a tasty disc of grilled parmesan and a beetroot, carrot and rocket salad.
The service was stern from behind the counter - a cold drinks order was met with a suggestion to "get it yourself" - but our wait staff managed to scoot around the close-together tables with little fuss. Our meals came out quickly; it's just a shame the coffees arrived after the food.
The coffee was just the right strength, and came with a jaffa on the side - a little dig at some of the customers perhaps? It was a nice touch but unfortunately mine rolled on to the ground.
We recommend if you come here you indulge in side dishes. The poached eggs and hash browns we ordered were a very reasonable $2.50 each.
Overall we thought Deckchair strives to add a touch of flair to its meals. We'll be back after the wedding.