Herald Rating: 4/5
Address: 1843 Great North Rd, Avondale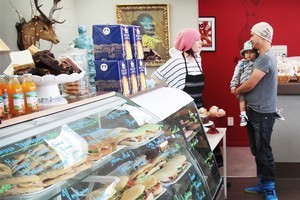 We came here because it's local and it came with a friend's recommendation.
Parking was easy, but it can get hectic around here on Sundays when the locals are mobbing the Avondale market. Still, it's a breeze compared with most cafes in busy centres.
We walked in and immediately thought we'd walked into an odd hybrid of a petrol station (which the site used to be) and a working bakery (which it is now). To get to the loos you walk through the kitchen, where bakers are a-baking. Very authentic.
The most unusual thing on the menu is the butter chicken pie and the eggs benedict panini.
We ordered the butter chicken pie and the eggs benedict panini, of course, along with a couple of doughnuts and the vegetarian panini, a caramel slice, a lemon tart and, for the most predictable member of our group, a steak and pea pie. The pies - a benchmark test for any self-respecting bakery - were generous in their fillings and sound with their pastry, keeping their shape well.
But aside from the coffee it's the sweet treats that set this joint apart: they're top-of-the-range and not too pricey, either. This is more of a comfy bakery than your standard cafe. A downside: the cutlery is plastic.
The service was excellent and smart. The crew behind the counter have a chatty rapport with locals rolling in. And it's all done with a smile. When one of the doughnuts we fancied had a split in it, the manager gave us both for free.
The coffee was strong and superb. A nuggetty punch of rich java, leavened by milk, not overwhelmed.
We recommend if you come here you make it a drop-in visit with a market run on a Sunday. Have something sweet and one of the Brazil-style flat whites.
Overall we thought Avondale has a gem. Well worth a visit for locals and worth the drive across town for anyone serious about coffee.