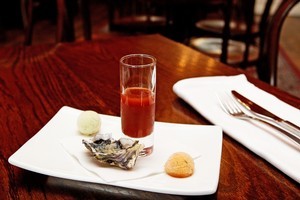 The dining room at De Ville resembles the parlour of a fin de siecle New Orleans bordello. Or, at least, how I imagine one would look. It's all blood-red walls, heavily draped windows, brass fittings, bentwood chairs and white linen.
George assures me that this is how a present-day New Orleans restaurant should look. And he should know, having visited the city many times. So he and Merima are ideal companions for our first taste of Creole/Cajun food.
We meet in the Crossroads Bar next door, a companion piece to De Ville. Diners and drinkers are few and far between, so our Paraguayan waiter, Sabino, has no problem keeping up.
Once seated in the parlour, and with menus in hand, we get down to the business of the evening. With only five starters and six mains, selection doesn't take long.
Merima is well pleased with her prawns in remoulade, the sauce subtle enough not to overwhelm the prawns.
My crab cakes, actually more like fritters, are also subtle, so much so that the taste of crab is barely discernible.
Bill fares better with the calamari, nicely seasoned with Cajun spices and a tasty dipping sauce. The pieces are slightly overdone, and we know what that means, but the flavour compensates. George is delighted with his oyster shooter, so much so that he wishes he had more than one.
In the 10 months or so that Tim Chittenden has been chef at De Ville, he has learned a thing or two, particularly in the use of file (pronounced fill-ay) powder, made from crushed sassafras leaves. It's the spice used in gumbo, which George declares mild but delicious. Merima feels that Tim has been a little heavy-handed with the file in her jambalaya but enjoys the quantity of chorizo and prawns in the mix.
Bill's pork ribs are good enough for him to clean his plate while my Cajun chicken is well-spiced but the cold potatoes are an unusual accompaniment.
In spite of the generous main plates, there is still room for sides of a particularly good corn bread, light in texture and lifted with the addition of chillies, and a green salad.
The bread pudding we share, made in New Orleans style with white chocolate and raisins and a whiskey sauce, is outstanding. It disappears rapidly.
In a length of Ponsonby Rd less well-endowed with eating places than the more northerly reaches, De Ville is a welcome addition.
Rating out of 10
Food: 7
Service: 8
Value: 8
Ambience: 8
Our meal: $282.50 for four starters, four mains, two sides, one dessert, four glasses of wine plus one bottle, two beers.
Wine list: Short and sweet. The usual suspects are present, such as the Wither Hills sauvignon blanc we enjoyed, but little out of the ordinary. The Crossroads Bar next door has everything else you might need.
Verdict: Creole and/or Cajun eating places are few and far between in Auckland. We are fortunate indeed if the others live up to the standard set by De Ville.