Address: 152b Ponsonby Rd
Ph: (09) 378 8186
Website: julep.co.nz
Open: Tuesday-Saturday, 5pm-2am.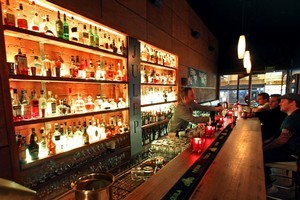 There is something definitely odd about Ponsonby Rd that confuses me.
Ponsonby casts a spell on people, persuading them they are having a great time in a great bar whether or not that is actually the case. For all the great bars on Ponsonby Rd, there are a fair few duds as well and it pays to remember which is which when you head in that direction.
I've had fantastic drinks served by brilliant staff in exquisite surroundings, but then I have had overpriced muck served up by surly morons who honestly believe they are the height of hip because they work in a dive on Ponsonby Rd.
Thankfully, the rather excellent Julep is one of the very, very good ones indeed. Tucked away by SPQR, it could have been transplanted from New York in its entirety. Long and narrow, it's dark, cosy and a great spot for an evening's fine drinking.
Fine being the operative word. Julep doesn't do drinks that are not excellent.
The wine list is well chosen and full of quality, while the beers are good and different. The well-priced food is good. But it's the cocktails that really win you over; made with care and attention, they aim for elegance and balance and deliver both in spades.
What really bowls me over about Julep is that it is utterly unpretentious, unlike many bars on that road. Preening posers going places to be seen are a blight on this city and, thankfully, you won't see that sort in Julep.
What you'll see is a great bar, a well-stocked top shelf and some very happy customers.
Scores
Service: 5/5
Drink: 4.5/5
Food: 4/5
Atmosphere: 5/5
Overall: 4.5/5