Herald Rating: 4/5
Address: Z Pier, 31 Westhaven Dr, Westhaven Marina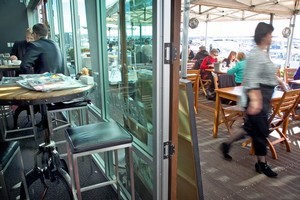 We came here because we'd been for a birthday meal some months earlier and always meant to return to try a brunch.
Parking was no problem, in the carpark - free for customers.
We walked in and immediately thought even on an overcast day the atmosphere was relaxed and inviting so we chose to sit outside.
The most unusual thing on the menu was Moroccan kumara hash with poached eggs and lime tomato salsa ($17.50).
We ordered a Kiwi breakfast of poached eggs, grilled tomato, mushrooms, sausage, kumara mash and ciabatta ($20), hot pancakes with banana, berries and Greek yoghurt and a side of kumara hash ($16.50), the Moroccan hash with a side of bacon ($4) and sweetcorn and ricotta fritters with bacon and sweet pickled cucumber ($16.50) with a poached egg ($4). All dishes were satisfying and the deep-fried balls of kumara hash were deemed particularly yummy.
The service was very attentive and friendly - happy to help us move when the overcast day turned into a shower, blowing in under the awning, although one of the side dishes was forgotten but was zapped up and delivered quickly.
The coffee was just right.
We recommend if you come here try for better weather but just relax and soak up the view of the marina.
Overall we thought everything was fine at Billfish but without that little something extra - in service or menu - that would make it excellent.