Herald Rating: 3/5
Address: 432 Richmond Rd, Grey Lynn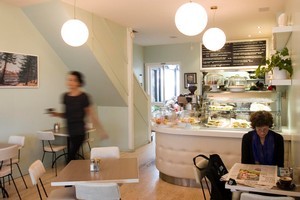 We came here because I ate well when I visited Monterey in California, and was curious to see if this West Lynn cafe paid gastronomic tribute to the city.
Parking was easy to find on Richmond Rd at 9.30am, but much later and you might need to use the side streets.
We walked in and immediately thought it had great decor: kitsch mint-green walls, white lamps and panoramic photographs of landscapes on large canvases on the walls.
The most unusual thing on the menu is the organic schnitzel with horseradish potato salad and coleslaw ($19.50).
We ordered the mushroom medley and toasted 5-grain with roasted tomatoes and ajvar relish ($18) and the eggs benedict with bacon ($17.50). The mushroom medley implied a variety of mushrooms had been used but this was just your standard brown funghi, sliced and layered in an attractive pile with the tomatoes, toast and a dollop of bright red relish on top.
The toast turned out to be the best thing about the dish as the mushrooms lacked flavour and were strewn with naked twigs of thyme. The eggs bene fared better, with bright yolks and hollandaise and tasty bacon. The bread was thick and became a bit soggy with sauce. A garnish might have lifted the dish.
The service was calm and friendly. Monterey is obviously a popular place for takeaway coffee. Even at their busiest, the staff were smiling and gracious.
The coffee was rich and creamy.
We recommend if you come here perhaps try something from the right-hand side of the blackboard. This is where you'll find the more adventurous-sounding dishes. It's a shame there's no clam chowder on the menu; it's the real Monterey's signature dish.
Overall we thought the ambience, service and coffee were great but for these prices, the food was disappointing.