Address: 69 St Georges Bay Road
Phone: (09) 366 9361
Website: lacigale.co.nz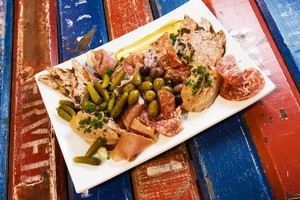 What a difference a waiter makes. Last time we dined at La Cigale, we left feeling cheated and unhappy. This time, with a better idea of how the system works, plus a friendly and efficient waiter, we had a terrific evening.
Our first move was to buy two bottles of wine from the excellent Wine Direct shop which sits right beside the restaurant, rather than order by the glass. Our second was to order two servings of the charcuterie entree to share, rather than get four as we did on our first visit and ruin our dinner.
And, in my opinion, our third coup was to go on a Wednesday night when chef was cooking traditional chicken with tarragon and a lamb neck casserole, rather than his Friday night tagine. As many already know, La Cigale's restaurant is as quirky as its shop. They take your order when you book, rather than when you arrive to eat. Choices are seriously limited: one entree, two main courses and two desserts to choose from - and, because there's rarely a fish option, let alone vegetarian, I couldn't take my son Oliver.
However, Barb, Brian and Annie are carnivores, so off we set.
The bottles of Pegasus riesling and Veneur Cotes de Rhone that Brian had chosen by the time we arrived were outstanding. They were served with a flourish at $10 corkage for both, which is reasonable, alongside a plate of crisp- crusted, home-roasted almonds. A great start.
Next came our charcuterie plate, brimming with a delicate, creamy pate, salami, tender prosciutto and slices of meatloaf. The meatfest was broken up by a pile of small, crunchy cornichons and fat olives.
This was served with crusty farmhouse-style French bread. Again, delicious and generous, even for four.
By now La Cigale was in full swing. Our main courses arrived, La Cigale style, in large, white bowls for sharing: chicken tarragon for Barb and Annie, and the lamb neck with green olives and fennel for Brian and me.
We were stunned. Our lamb, rather than a collection of neck chops, had been expertly whittled off the bone while raw and cooked in two long, succulent pieces. It was surrounded by a dark, gravy thick with olives and fennel and accompanied by potatoes roasted with rosemary. As Brian noted, the herbs must have been added just before the potatoes were finished because they were still green and their flavour infused the spuds far more strongly than we ever manage.
Last was a plain, green salad, saved by its freshness and a drenching with a truly exquisite French dressing. I ate most of it myself.
The chicken tarragon was equally good. Although in a much lighter sauce, it was similarly tasty in its own delicious way, and perfectly cooked to just short of falling off the bone. There was also more of it than the lamb but the women polished it off no trouble.
We sampled both desserts - crepes Suzette for Brian and tarte aux pommes for the rest of us.
Once again, everything was terrific. The pastry was lighter, the apple just staring to caramelise around the edges.
And so, after a couple of coffees, we walked out into the night, happy and satisfied. What was different to the previous visit? We knew the system, including where to park. The food was much, much, tastier than the watery tagine we had last time. The waiters were handsome and charming, rather than ascerbic and offhand.
If you haven't been to La Cigale, have a look at their website before you book. It explains the whole process, including that they do dinner only Wednesday through Friday, and gives day-to-day meal options.
Rating out of 10

Food: 8
Service: 8
Value: 8
Ambience: 7

Our meal: $266 for two bottles of wine, two entrees, four mains, five desserts and two coffees.

Wine list: Disappointing. Much better to buy a bottle or two from adjacent Wine Direct, which works with La Cigale.

Verdict: La Cigale is like a housewife who has perfected a dozen recipes. Choices are limited but what they do offer is superb (though I can't vouch for the tagine).