Herald Rating: 4/5
Address: 20 Park Rd, Auckland Domain, Grafton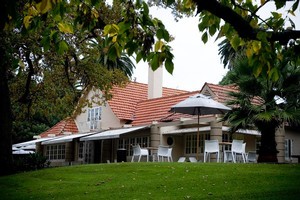 We came here because we planned a visit to the museum and kicked it off with brunch at the Wintergarden.
Parking was not too hard to find on the domain's roadways, but can involve a bit of a walk in busy times.
We walked in and immediately thought the cafe's setting was perfect and sitting out on the deck was a relaxing start to the day.
The most unusual thing on the menu was whipped goat's cheese, serrano ham, butter pears and arugula.
We ordered Italian fried eggs, grilled Kaiser bacon, chorizo, roasted tomato, portobello mushrooms on toasted sourdough ($24) and kedgeree of smoked hapuku, creamy orzo, English curry and poached egg ($22).
The service was very good.
The coffee was fine.
We recommend if you come here you sit outside if it's a fine day, there's a pleasant view over the garden and park.
Overall we thought Wintergarden Cafe was a little on the expensive side, but the food was good quality.