Herald on Sunday rating: 4/5
Address: 61 Davis Crescent
Phone: (09) 523 1057
Open: From 4pm daily, except Sundays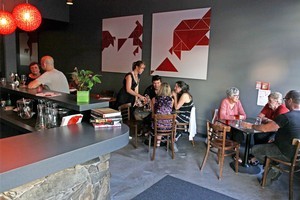 "Sugar, salt, fat," said Robert, as we tucked into the churros con chocolate at the Basque Kitchen and Bar. "You can't beat them."
Now Robert is a man who knows a bit about good food: I have swooned over his spaghetti alle vongole, made with new-dug cockles, and he introduced me to whisky on porridge, which made me sorry that I don't much like porridge.
And he was touching on a universal truth, the reason that hamburgers and pizzas answer the same basic human need as, say, the chicken liver parfait with nougat cannelloni and pear relish at The French Cafe.
But to be frank, he rather understated the appeal of the churros (those extruded doughnuts that are to be found at street stalls and on fine-dining menus in Spain). They made a splendid finale to a shared meal of tapas at this small, boho-chic place, opposite what used to be the Mandalay Ballroom.
Ah, tapas. I tend to cringe when I hear the word, because it gets thrown around so much by restaurateurs.
El Faro in the Elliott Stables and Ragu and Mondial in the inner west are run by people who seem to have actually spent some time in Spain, although their serving sizes are more what the Spanish would call raciones. No one quite nails it like Bellotta, but the better operators give a smart Kiwi inflection to the genre - and Basque fits into that company very comfortably indeed.
Owner-chef James King is an Aucklander who has paid his dues in Melbourne and London. At the front of house is Carol Pearcy, formerly of No5, who is a personable sommelier even if her style is unorthodox: she introduced herself as "a qualified alcoholic" and, though it was smart to ask what New Zealand wine we like to help her match us up with a Spanish wine, it might have been worth at least offering us a look at a list.
If she had done so I would have noticed the dozen sherries on offer, which would have worked well with some of the food.
As it was we ended up with an 06 Graciano from the Navarra region, which was quite splendid; fruity but peppery. It was an ideal food wine, which was just as well because some ideal food was on the way.
We passed on the classic tipplers' nibbles - almonds and olives - and, with Pearcy's help, assembled a selection of plates that covered most of the bases. Pitted green olives, stuffed with piquant manchego - a hard, sheep-milk cheese - before being deep-fried, made for an excellent start.
Regrettably, the original vegetable's taste was hard to detect in the chip-shaped fingers of fried, crumbed eggplant and, worse, the distinctive rubbery texture had been obliterated.
But in the seafood offerings, King really hit his straps: the grilled whole sardines were enormous and tasty; the calamari avoided the sandy salt-and-pepper treatment in favour of a summery dressing of tomato, mint and broad beans, and when I finally cracked and ordered the slow-roasted pork belly I was delighted to discover it was true to its name, succulent but with almost all the cloying fat melted away.
The menu has more substantial offerings, including the meatballs Spaniards call albondigas and the desserts ... well, Robert told you about the churros. The menu may change - is summer finished, then? - but doubtless the quality will be the same. Check this place out soon.
Ambience: Suave
Vegetarians: A third of the menu
Watch out for: Sardines
Bottom line: Spanish accent
THE BILL
$144 for three
Tapas: $7-$12
Wine (1 bottle): $51.50